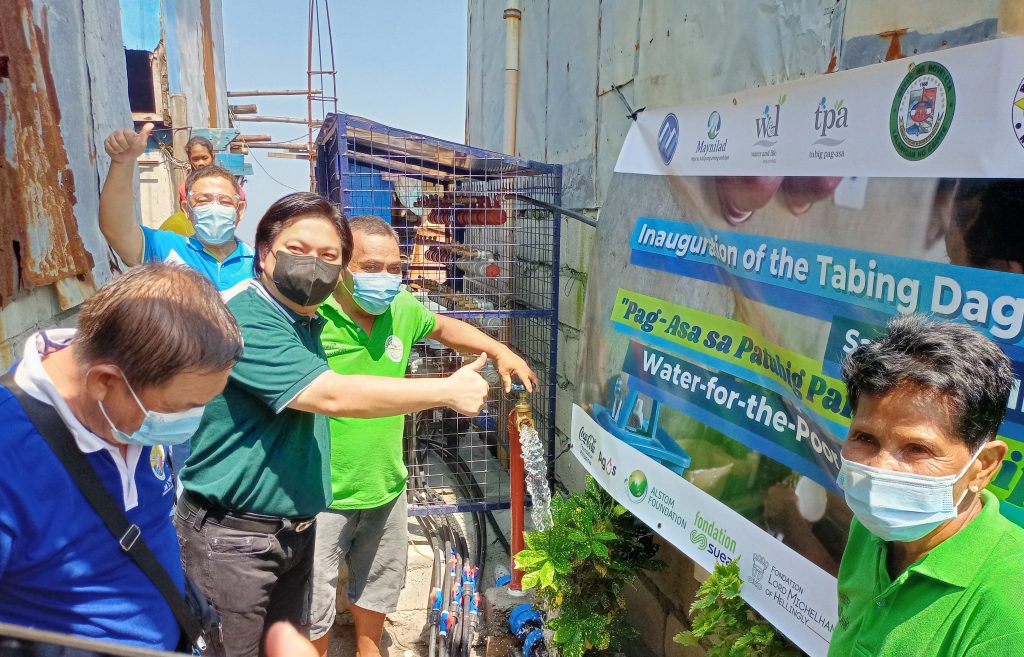 West Zone concessionaire Maynilad Water Services, Inc. (Maynilad) recently connected another urban poor community in Cavite to its network, thus providing water access to some 2,000 residents through its "water for the poor" program.
More than 2,000 residents in Aplaya Village, Noveleta, Cavite, finally received piped-in supply of potable water from Maynilad through the water company's "Pag-asa sa Patubig Partnership" (P3) with Filipino social business group, Tubig Pag-asa. Under P3, waterless urban poor communities are connected to Maynilad's water distribution system through bulk water scheme with public faucets or submeters.
Before Maynilad connected this P3 beneficiary community in Aplaya Village, the residents relied on water syndicates that sold overpriced water. "This community was in dire need of clean water and sanitation, especially at this time of the pandemic. We are glad that my office and Maynilad were able to work together to alleviate their situation," said Noveleta City Mayor Dino Chua.
Maynilad actively provides water access and sanitation support for underprivileged communities through its Water, Sanitation and Hygiene (W.A.S.H) initiatives such as P3, which it pursues with partners Tubig Pag-asa and Water and Life Philippines.
"Some blighted communities are prevented from getting water access due to right-of-way conflicts and permitting issues, and this often leads to the practice of connecting illegally to the network. Our P3 program enables us to address that problem while reinforcing our commitment to support the United Nations Sustainable Development Goal of water access and sanitation for all," said Maynilad President and CEO Ramoncito S. Fernandez.
Maynilad is the largest private water concessionaire in the Philippines in terms of customer base. It is a concessionaire of the Metropolitan Waterworks and Sewerage System (MWSS) for the West Zone of the Greater Manila Area, which is composed of the cities of Manila (certain portions), Quezon City (certain portions), Makati (west of South Super Highway), Caloocan, Pasay, Parañaque, Las Piñas, Muntinlupa, Valenzuela, Navotas and Malabon all in Metro Manila; the cities of Cavite, Bacoor and Imus, and the towns of Kawit, Noveleta and Rosario, all in Cavite Province.
PHOTO CAPTION:
Noveleta City Mayor Dino Chua (third from right) and Maynilad South Business District Head Normen Kahulugan (fourth from right) during the inauguration of Maynilad's "water for the poor" program in Noveleta, Cavite, that gave water access to some 2,000 Aplaya Village residents. Maynilad's "Pag-asa sa Patubig Partnership" with Tubig Pag-asa connects waterless, underprivileged communities to the distribution system through bulk water scheme.