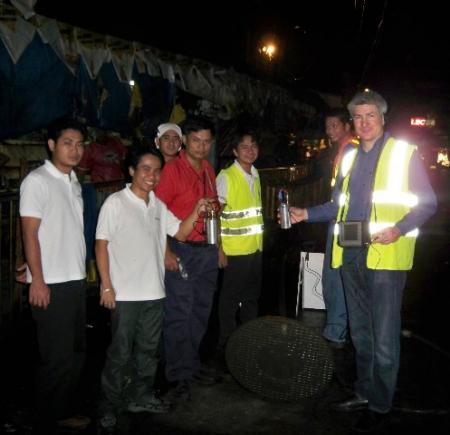 West Zone concessionaire Maynilad Water Services, Inc. (Maynilad) is set to secure one of the latest leak detection devices available in the market today – the Aquascan Trunk Main (TM) leak noise correlator.
The AquaScan TM leak noise correlator uses non-invasive technology to locate leaks in water mainlines so water supply need not be interrupted during leak detection operations. Maynilad is the first water company in South East Asia to utilize this technology.
Recently developed by Gutermann Pty Ltd. of Australia, the AquaScan TM meets Maynilad's stringent leak detection requirements. The device is an excellent complement to its other leak detection equipment to cover the company's primary lines.  It was first tested by the water company last June 2010, and can detect quiet leak noises despite environment noise.
Gutermann Pty Ltd. is a subsidiary of Gutermann Messtechnik of Switzerland. Since 1948, the company has been designing and manufacturing data acquisition and leak location equipment for leading water companies in more than 30 countries across five continents.
Since 2007, the new owners of Maynilad have been investing heavily on the modernization of the decades old water distribution lines in the West Zone. Around P19.7billion has been spent to repair, replace and decommission old leaky pipes in its concession area. For this year, the company has earmarked P6.5 billion for its modernization and expansion projects.
The West Zone is composed of the cities of Manila (all but portions of San Andres & Sta Ana), Quezon City (west of San Juan River, West Avenue, EDSA, Congressional, Mindanao Avenue, the northern part starting from the Districts of the Holy Spirit & Batasan Hills), Makati (west of South Super Hi-way), Caloocan, Pasay, Paranaque, Las Pinas, Muntinlupa, Valenzuela, Navotas and Malabon all in Metro Manila; Cavite City, and the towns of Bacoor, Imus, Kawit, Noveleta and Rosario, all in Cavite Province.
IN PHOTO: Maynilad personnel test and calibrate the AquaScan TM at the Sampaloc and Malabon area before full deployment.