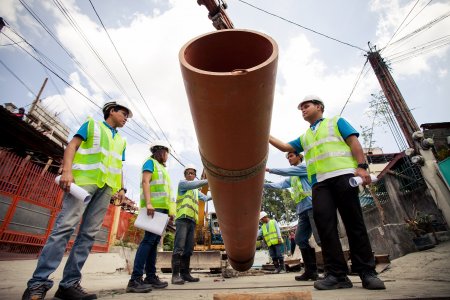 West Zone concessionaire Maynilad Water Services, Inc. (Maynilad) is investing about ₱13.6 billion this year for its water and wastewater infrastructure projects.
To help ensure sufficient water supply and pressure in the West Zone, more than half of 2016 capital expenditures (CAPEX) or around ₱7.5 billion will go to Maynilad's water infrastructure projects.
More than ₱3.9 billion has been earmarked for operation support programs such as the construction, rehabilitation and upgrade of treatment plants, pumping stations and reservoirs, and the laying of primary pipelines for water service expansion.
Some ₱2 billion has been allotted for Maynilad's Non-Revenue Water (NRW) reduction program, which covers meter management, leak repairs, pipe replacements, and District Metered Area management.
The rest of the budget will be spent for the modernization of data management and information systems, improvement of existing facilities, development of new water sources, and refurbishment of Common Purpose Facilities (CPF) in the Bicte Basins and Ipo Dam.
Meanwhile, some 45% or around ₱6 billion of Maynilad's 2016 capital investment will be spent for wastewater management projects. Of the said amount, some ₱4.6 billion will be used for the construction of Sewage Treatment Plants (STPs) in Central Manila and Cavite, as well as for the improvement of existing STPs in Quezon City and Central Manila.
Another ₱1.2 billion will be allotted for the construction of conveyance systems for these new STPs, and the development of sewerage systems in Quezon City and Valenzuela. The remaining budget allocation will go to automation of facilities, lot acquisitions, maintenance, and sanitation programs.
Funding for Maynilad's infrastructure investments will come from local and international bank loans, as well as from internally generated funds. The water company expects to generate around 41,243 jobs from its ₱13.6 billion CAPEX program this year.
"We start the year right by providing the necessary investments to continue meeting our service obligations and contributing to the job generation efforts of the government," said the new Maynilad President and CEO Ramoncito S. Fernandez.
Maynilad is the largest private water concessionaire in the Philippines in terms of customer base. It is the agent and contractor of the Metropolitan Waterworks and Sewerage System (MWSS) for the West Zone of the Greater Manila Area, which is composed of the cities of Manila (certain portions), Quezon City (certain portions), Makati (west of South Super Highway), Caloocan, Pasay, Parañaque, Las Piñas, Muntinlupa, Valenzuela, Navotas and Malabon all in Metro Manila; the cities of Cavite, Bacoor and Imus, and the towns of Kawit, Noveleta and Rosario, all in Cavite Province.