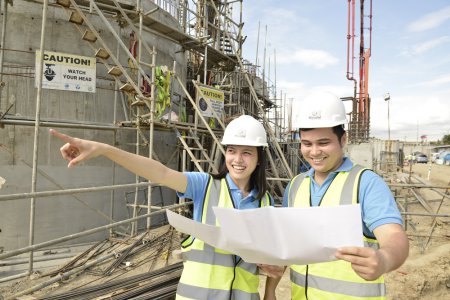 West Zone concessionaire Maynilad Water Services, Inc. (Maynilad) is building four new Sewage Treatment Plants (STPs) in the next five years. Once completed, these facilities will have a combined treatment capacity of about 120 million cubic meters per year and will serve 2.1 million people.
Requiring a capital outlay of ₱21.1 billion, this project involves the construction of one STP each in Kawit (Cavite), Las Pinas, Caloocan and Muntinlupa, as well as the installation of 160 kilometers of sewer lines for the conveyance systems. This new infrastructure is part of Maynilad's ₱30.6-billion wastewater management program for years 2018 to 2022.
Part of the ₱30.6-billion wastewater management program budget will also be used for the upgrade of treatment technologies used in Maynilad's existing STPs to make these compliant with the new effluent standards imposed by the Department of Environment and Natural Resources (DENR).
Meanwhile, about ₱318 million of the program budget is intended for the procurement of 56 new Vacuum Truck Units (VTU), so Maynilad can offer septic tank cleaning services to more customers.
The rest of the budget will go to sewer network repair and rehabilitation, lot acquisitions, and retrofitting of wastewater facilities, among others.
Maynilad's five-year wastewater management program, which will be funded by loans from local and international banks and by internally generated funds, is expected to generate about 93,500 jobs.
"The construction of these new wastewater facilities is part of our effort to comply with the Supreme Court mandamus to help improve water quality in Manila Bay. It is our sincere hope that other Manila Bay stakeholders will likewise do their part so we can gain significant ground in this endeavor," said Maynilad President and CEO Ramoncito S. Fernandez.
Maynilad's current wastewater infrastructure is comprised of 20 STPs, three septage treatment plants, 41 sewage pumping stations, 22 lift stations, and more than 500 kilometers of sewer lines.
Maynilad is the largest private water concessionaire in the Philippines in terms of customer base. It is the agent and contractor of the Metropolitan Waterworks and Sewerage System (MWSS) for the West Zone of the Greater Manila Area, which is composed of the cities of Manila (certain portions), Quezon City (certain portions), Makati (west of South Super Highway), Caloocan, Pasay, Parañaque, Las Piñas, Muntinlupa, Valenzuela, Navotas and Malabon all in Metro Manila; the cities of Cavite, Bacoor and Imus, and the towns of Kawit, Noveleta and Rosario, all in Cavite Province.
PHOTO CAPTION: Photo shows Maynilad engineers overseeing construction of the Parañaque Sewage Treatment Plant (STP). Maynilad is investing ₱30.6 billion in the next five years for its wastewater program, part of which will be spent on the construction of four additional STPs in other areas of its West concession. The program is in line with Maynilad's effort to comply with the Supreme Court mandamus to help improve water quality in Manila Bay.