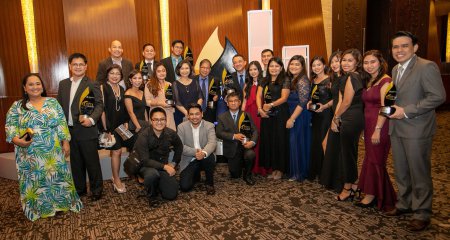 West Zone concessionaire Maynilad Water Services, Inc. (Maynilad) bagged five Excellence and five Merit Awards at the 17th Philippine Quill Awards held recently at the Marriott Grand Ballroom in Pasay City.
Excellence Awards were given to Maynilad's wastewater digital campaign "Ang Pagbabalik ng Da Patapons", social media program "#MayniLOVE for the Win", employee engagement initiative "CineNRW", pipe-laying explainer videos "MayniLOVE", and sustainability report "Expanding Horizons".
Meanwhile, the water company earned Merit Awards for its company newsletter "Ripples", wastewater video "Episode 2: Mayni-LAD to the rescue!", internal communication initiative "Central Non-Revenue Water Point System", media relations program "Managing the turbidity issue", and corporate event "Source 2018: A Vendor Conference, Exhibit, and Recognition Program."
Maynilad was again nominated for the "Company of the Year Award", alongside Jollibee Foods Corporation, Smart Communications Inc., Manila Electric Company (Meralco), and ABS-CBN 2.
"Receiving these awards is proof of the Maynilad organization's passion for excellence. We are deeply honored for the recognition, and we will certainly use it as inspiration to continue producing quality communications programs for the benefit of the communities we serve," said Maynilad President and CEO Ramoncito S. Fernandez.
The Philippine Quill is awarded by the International Association of Business Communicators (IABC). It is the foremost mark of excellence in business communication, and recognizes the most effective and innovative communication initiatives in the country.
PHOTO CAPTION: The Maynilad team, led by COO Randy Estrellado (standing, 8th from left), with their haul of 10 trophies from the 17th Philippine Quill Awards, won for its various communications initiatives.