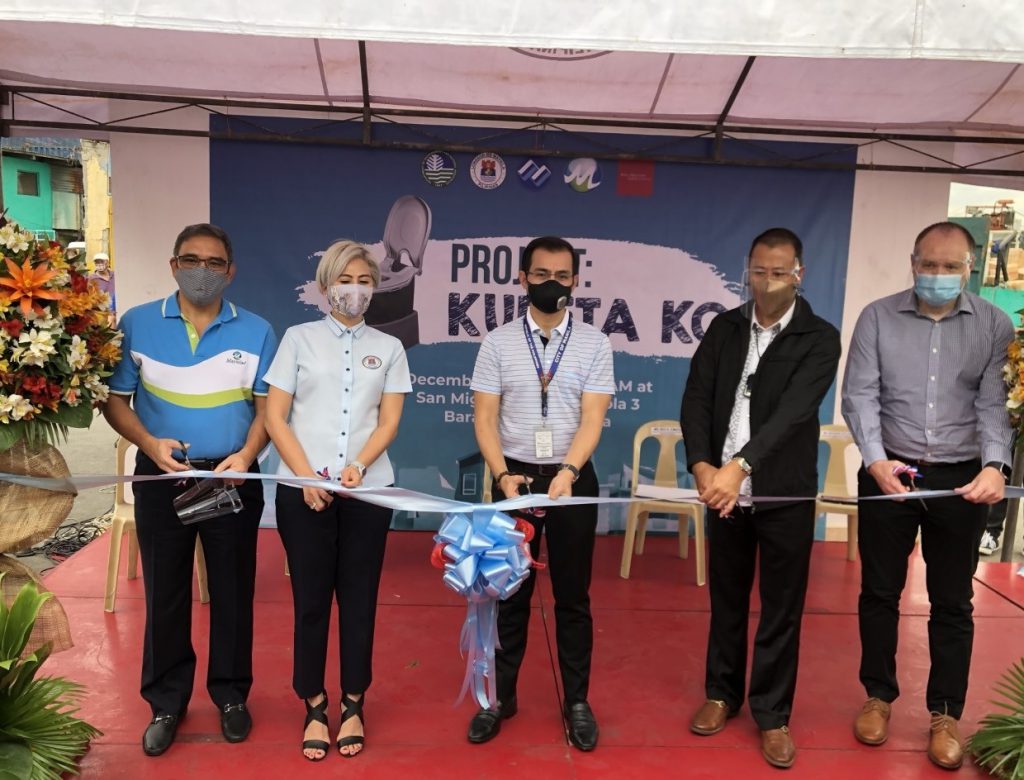 West Zone concessionaire Maynilad Water Services, Inc. (Maynilad) is providing its wastewater collection and treatment services for the "Project Kubeta Ko" movement, which seeks to prevent open defecation in Metro Manila waterways.
"Project Kubeta Ko"—a collaborative endeavor with the Department of Environment and Natural Resources (DENR), the city government of Manila, and the Metropolitan Waterworks and Sewerage System (MWSS)—involves the provision of portable toilets for informal settler families at Parola Compound in Tondo, Manila. It is being pursued in support of the continuing Supreme Court Mandamus to clean up, rehabilitate and preserve the Manila Bay.
Fifty of the 400 portable, container-based toilets have been turned over to the beneficiaries during the onsite project launch held last December 15, 2020. The portable toilet units were developed by Loowatt, Limited, and donated by the Bill and Melinda Gates Foundation. Under this project, Maynilad's role is to treat the sewage collected from the donated toilets, in compliance with applicable laws on wastewater and solid waste management.
"We are grateful for this partnership, as it enables us to better fulfill our Company's social and moral responsibility. Protecting the environment is more than an obligation to Maynilad—it is our calling. And we are fervent in our desire to promote a healthy and livable world," Maynilad President and CEO Ramoncito S. Fernandez said.
The photo shows the ribbon-cutting ceremony to mark the launch of "Project Kubeta Ko". Present were (from left) Fernandez, Manila City Vice Mayor Honey Lacuna, Manila City Mayor Francisco "Isko Moreno" Domagoso, DENR USec. Jonas Leones representing DENR Sec. Roy Cimatu, and British Embassy Director for International Trade and Investment Richard Coley.