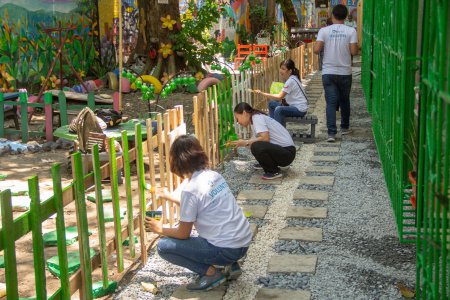 West Zone concessionaire Maynilad Water Services, Inc. (Maynilad) took active part in the Brigada Eskwela 2019 program of the Department of Education (DepEd) by deploying 120 employee-volunteers to refurbish water and sanitation facilities and convert under-utilized campus spaces into mini-parks and vegetable gardens in 146 public schools across its concession area.
Maynilad also donated water education materials to these beneficiary schools.
The photo shows Maynilad volunteers at work in the Las Pinas Elementary School-Central. "We are happy to be regular participants in DepEd's Brigada Eskwela, as it furthers our own efforts of promoting environmental awareness, proper hygiene and sanitation among schoolchildren," said Maynilad President and CEO Ramoncito S. Fernandez.