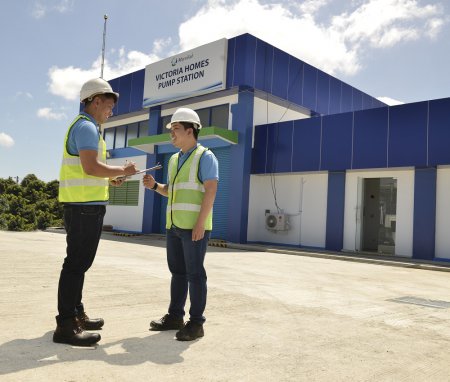 West Zone concessionaire Maynilad Water Services, Inc. (Maynilad) has spent some of P1.5 billion in 2017 for the construction of new pumping stations and reservoirs (PSRs) in Las Piñas, Quezon City and Muntinlupa.
These new facilities, which have a combined storage capacity of 110 million liters of water, enabled Maynilad to increase water pressure from 7 psi (pounds per square inch) to 16 psi for almost 400,000 residents in some areas of Bacoor City, Las Piñas, North Caloocan and Muntinlupa. At 16 psi, water supply can reach the fourth floor a house or establishment without the need for a booster pump.
The strong water pressure consequently allowed Maynilad to bring potable water to elevated portions of the said areas, which previously had no water access or had limited supply availability.
Moreover, some 61,000 people in the south, who still rely on deep wells for their water supply, are expected to connect to Maynilad's distribution network once the new PSRs become fully operational by the second quarter of 2018.
Maynilad currently has 28 pumping stations and 32 reservoirs located in strategic locations throughout its West concession area—up from only seven operational pumping stations and reservoirs in 2006 before the company was re-privatized.
"Since 2007, we have added 21 pumping stations and 25 reservoirs to the water infrastructure that we inherited upon re-privatization. In the next five years, we will build more such facilities in Parañaque, Muntinlupa, Quezon City, Bacoor City and Kawit City," said Maynilad President and CEO Ramoncito S. Fernandez. "We are also investing another P 2.2 billion in the next five years for the rehabilitation and upgrade of existing PSRs."
Maynilad is the largest private water concessionaire in the Philippines in terms of customer base. It is the concessionaire of the MWSS for the West Zone of the Greater Manila Area, which is composed of the cities of Manila (all but portions of San Andres & Sta. Ana), Quezon City (west of San Juan River, West Avenue, EDSA, Congressional, Mindanao Avenue, the northern part starting from the Districts of the Holy Spirit & Batasan Hills), Makati (west of South Super Highway), Caloocan, Pasay, Parañaque, Las Piñas, Muntinlupa, Valenzuela, Navotas and Malabon all in Metro Manila; the cities of Cavite, Bacoor and Imus, and the towns of Kawit, Noveleta and Rosario, all in Cavite Province.