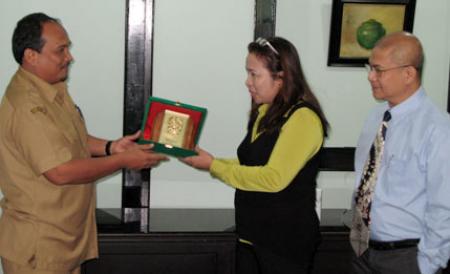 Representatives from Maynilad Water Services, Inc. (Maynilad), the private water concessionaire for the West Zone, recently visited PDAM Tirtanadi, the state-owned water and sewerage utility in Medan City, Indonesia. During the visit, Maynilad trained the Indonesian utility firm on how they can provide water service to poor communities on a large scale.
Maynilad was earlier tapped by the United States Agency for International Development (USAID) to extend technical assistance to PDAM Tirtanadi in its grand plan to connect 14,000 low-income households through the service models developed by Maynilad.
Since 2007, Maynilad has provided safe, reliable and affordable water to 340,085 low-income families in the West Zone, through its Bayan Tubig and Samahang Tubig Maynilad.
In the photo, PDAM Tirtanadi managing director Fahmi Jihan (left) presents a token of appreciation to Maynilad representatives, CSR head Nerissa Jose (center) and North Caloocan Business Area head Hipolito Gadia.