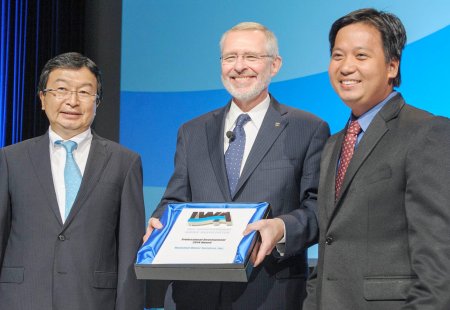 The personnel development efforts of Maynilad Water Services, Inc. (Maynilad) gained international recognition, making the water company the first in the Philippines to take home the International Water Association's (IWA) Professional Development Awards for its Maynilad Cadet Engineer Program (CEP).
The Maynilad CEP is a six-month-long program that aims to attract, develop and retain engineers who could rise to the challenge of transforming water services for millions of Filipinos. Aside from leadership and character-building trainings, cadet engineers receive lectures and on-the-job trainings on water supply operations, water recovery, and wastewater management.
"We believe that by providing our cadets with responsibilities that are technically challenging and personally fulfilling, we prepare them to become well-rounded water professionals. We are honored and grateful that the international water community has recognized our efforts to contribute to the water engineering profession," said Maynilad President and CEO Ricky P. Vargas.
The Maynilad CEP has also been recognized by the World HRD Congress as the Best Change Management Program in the recently concluded National Training and Development Awards.
PHOTO CAPTION: International Water Association President Glen Diagger (middle) confers the Professional Development Award to former Maynilad Board Member Takashi Sunami (left) and Maynilad Learning and Development Head Mitchie Arcaina during the IWA World Water Congress and Exhibition in Lisbon, Portugal.