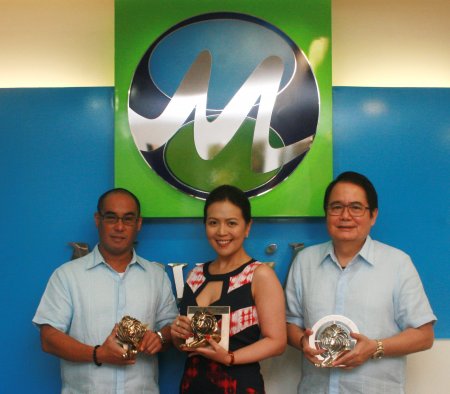 West Zone concessionaire Maynilad Water Services,Inc. (Maynilad) receives three prestigious awards; a Silver Lion and two Bronze Lions from the recently concluded Cannes Lions 60th International Festival of Creativity in France.
Maynilad partnered with Y&R Philippines and the Department of Health (DOH) in devising the Maynilad Dengue Bottle, a cost effective do-it-yourself (DIY) project that helps exterminate mosquitos using items commonly found in households, a recycled plastic bottle with a mixture of clean water, brown sugar and yeast. The mixture produces carbon dioxide that attracts the mosquitoes, trapping them in the device and killing them. The Maynilad Dengue Bottle can kill hundreds of mosquitos within a span of two weeks before the mixture requires replacement.
Dengue is a leading cause of childhood morbidity in the Philippines. In the National Capital Region alone, a total of 6, 605 cases were recorded by the Department of Health\'s Regional Epidemiology Surveillance Unit from January 1 to June 30 this year.
Y&R is one of the world\'ss leading global marketing communications companies. The agency\'s work spans the communications spectrum and reflects the transformation that digital has driven across all media.
Maynilad is the largest private water concessionaire in the Philippines in terms of customer base. It is a concessionaire of the MWSS for the West Zone of the Greater Manila Area, which is composed of the cities of Manila (all but portions of San Andres & Sta. Ana), Quezon City (west of San Juan River, West Avenue, EDSA, Congressional, Mindanao Avenue, the northern part starting from the Districts of the Holy Spirit & Batasan Hills), Makati (west of South Super Highway), Caloocan, Pasay, Paranaque, Las Pinas, Muntinlupa, Valenzuela, Navotas and Malabon all in Metro Manila; the cities of Cavite, Bacoor and Imus, and the towns of Kawit, Noveleta and Rosario, all in Cavite Province.
(IN PHOTO: (L-R) Maynilad\'s Head of Business Area Operations, Christopher J. Lichauco joins President Ricky P. Vargas in receiving the Cannes Lions Awards from Y&R partner, Ms. Mary Buenaventura, Chief Operating Officer of Y&R Philippines.)