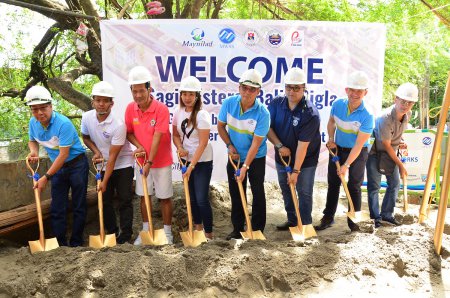 West Zone concessionaire Maynilad Water Services, Inc. (Maynilad) and the Pasig River Rehabilitation Commission (PRRC) joined forces with the Metropolitan Waterworks and Sewerage System (MWSS) and the local government of Manila to rehabilitate four polluted esteros in Manila for the next three years. This project is meant to lessen pollution load into waterways, in compliance with the Supreme Court Mandamus to clean up, rehabilitate, and preserve Manila Bay.
In the photo, Maynilad President and CEO Ramoncito S. Fernandez (5th from left) led the groundbreaking ceremony for the installation of a 1.5-kilometer interceptor pipeline along Estero de la Reina that will catch wastewater generated by over 8,400 households in Manila. Said interceptor pipe will convey the wastewater to Maynilad's treatment facilities before discharge to the ecosystem.
With Fernandez are (from left) Maynilad Wastewater Management head Antonio Garcia, Brgy. 56 SK chairman Benjie Alvarez, Brgy. 58 chairman Ernesto TImbol, Katherine Evangelista (representing Brgy. 56 chairman Dale Evangelista), PRRC executive director Jose Antonio Goitia, Maynilad COO Randolph Estrellado, and Roy Menorias (representing Manila's 1st district congressman Manny Lopez).