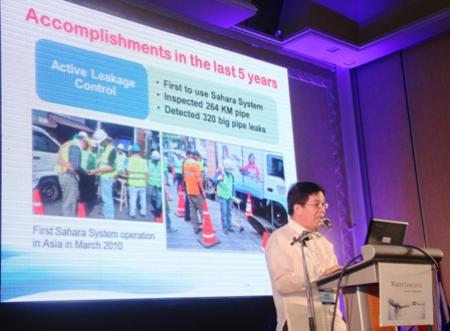 West Zone concessionaire Maynilad Water Services, Inc. (Maynilad) presented its Non-Revenue Water (NRW) management programs to some 600 water professionals in the recently concluded Water Loss 2012 Conference.

Less than five years after Metro Pacific Investments Corporation (MPIC) and DMCI Holdings, Inc. (DMCIHI) took over the company, Maynilad was able to recover almost 550 million liters of water per day (MLD) through its NRW management programs. This volume is enough to fill 220 Olympic-size swimming pools.

"The Water Loss Conference has become the benchmark for NRW professionals worldwide. We are thankful to the International Water Association (IWA) for the opportunity to share our NRW expertise and experience, and to the MWSS for their support through the years. We are committed to recovering more water so we can serve even more communities in our service area," said Maynilad President and CEO Ricky P. Vargas.

The IWA Water Loss 2012 is the world's premier water loss conference. The Philippines is the first Asian country to host this global event.

IN PHOTO: Engr. Irineo Dimaano presents the paper "The Challenge of Reducing Maynilad's Non‐Revenue Water" before global water loss experts at the Water Loss 2012.