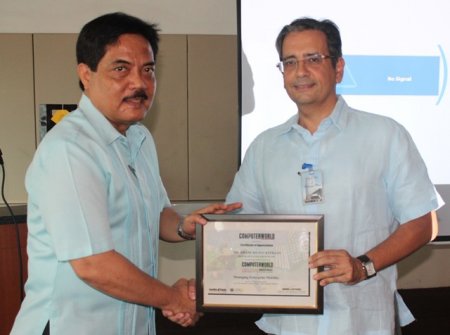 Dr. Francisco Castillo (right), Information Technology Services head of West Zone concessionaire Maynilad Water Services, Inc. (Maynilad), received a certificate of appreciation from Computerworld Philippines after serving as a keynote speaker during the "Managing Enterprise Mobility Executive Briefing" held recently in Makati. Presenting the certificate is Media G8way Corporation President Ibarra Gutierrez.
Enterprise Mobility Management refers to the broad use of mobile devices and wireless networks in businesses. Also known as "Bring Your Own Device" (BYOD), it seeks to maximize the use employees' mobile devices such as smartphones and tablets in the workplace.
In his talk about setting up mobile technology in Maynilad, Dr. Castillo discussed how implementing BYOD helped to enhance productivity and efficiency among employees. He also presented the company's Field Monitoring User System, which enables Maynilad to remotely monitor and assess field data in an efficient and compact way.