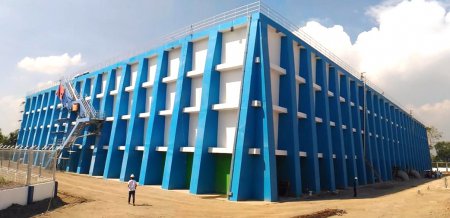 West Zone concessionaire Maynilad Water Services, Inc. (Maynilad) recently began operating a new reservoir to enhance water pressure for North Caloocan customers.
The new ₱435-million facility—located in front of Sacred Heart Village at Barangay Greater Lagro in Quezon City—can store up to 50 million liters of water, enabling Maynilad to increase water pressure from 7 psi (pound per square inch) to 16 psi for more than 40,000 households in nine barangays in North Caloocan. At 16 psi, water supply can reach the third floor a house or establishment without the need for a pump.
Among the areas that benefited from the improved water pressure are Bagong Silang, Amparo, Mountain Heights, Victory Subd., Pangarap Subd., Adeline, St. Joseph, Barracks, Tala, Malaria, and Central Leprosarium. Moreover, the new reservoir also enabled Maynilad to extend to 24 hours the water availability in the elevated areas of Barangays Adeline and Mountain Heights.
The Sacred Heart Reservoir, which began operations in March 2017, is also expected to support Maynilad's bid to connect about 4,800 new water service accounts in North Caloocan this 2017.
With the completion of the Sacred Heart Reservoir, Maynilad now has 30 reservoirs located in strategic locations throughout its West concession area—up from only seven reservoirs in 2006 before the company was re-privatized.
Maynilad is investing some ₱ 300 million this year for the construction, upgrade and rehabilitation of pumping stations and reservoirs.
"The construction of additional reservoirs gives Maynilad enhanced flexibility in managing water supply. Besides this new facility in Barangay Sacred Heart, we are set to build two more this year in Muntinlupa and Cavite," said Maynilad President and CEO Ramoncito S. Fernandez.
Maynilad is the largest private water concessionaire in the Philippines in terms of customer base. It is the concessionaire of the MWSS for the West Zone of the Greater Manila Area, which is composed of the cities of Manila (all but portions of San Andres & Sta. Ana), Quezon City (west of San Juan River, West Avenue, EDSA, Congressional, Mindanao Avenue, the northern part starting from the Districts of the Holy Spirit & Batasan Hills), Makati (west of South Super Highway), Caloocan, Pasay, Parañaque, Las Piñas, Muntinlupa, Valenzuela, Navotas and Malabon all in Metro Manila; the cities of Cavite, Bacoor and Imus, and the towns of Kawit, Noveleta and Rosario, all in Cavite Province.