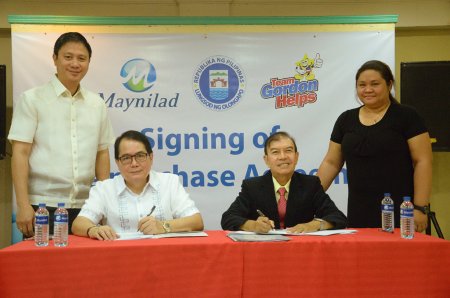 Maynilad Water Services, Inc. (Maynilad) President and CEO Victorico P. Vargas (2nd from left) and Olongapo City Mayor James "Bong" Gordon signed the Share Purchase Agreement, which transfers the city's ownership of 10% of Subic Water to the West Zone concessionaire.
This development came after Maynilad won the bid for Olongapo City's share in Subic Water with the bid price of P210 million. Subic Water is the first privatized water and wastewater utility in the country. It currently serves 40,000 customers within Olongapo City and the Subic Bay Freeport Zone.
With Vargas and Gordon in the photo are Maynilad SVP for Commercial and Marketing Patrick Gregorio and Olongapo Budget Officer Mary Beth Marzan.