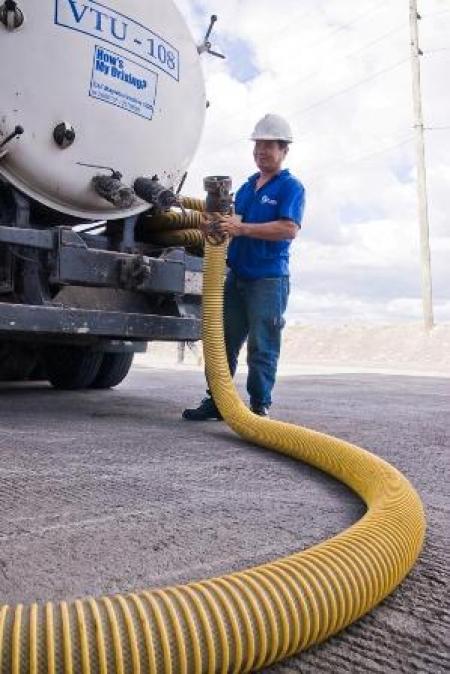 This November, Maynilad will offer septic tank cleaning services to its customers in select parts of Manila, Caloocan, Valenzuela, Malabon, Navotas, Muntinlupa, Las Piñas, Parañaque and Cavite at no extra cost.
Maynilad customers in Brgy. 824 in Zone 89, Brgy.710, Brgys. 842 & 843 in Zone 92, Brgys. 849 & 850 in Zone 93, Brgy. 275 in Zone 25, Brgy. 649 in Zone 68, Brgys. 20 & 30 in Zone 2, Brgys. 39 & 44 in Zone 3, and Brgys. 100 – 106 in Zone 8, Brgys. 116, 118 & 123 in Zone 9, Brgy. 211 in Zone 19 in Manila; Amparo Village Homeowners Association (HOA) Inc., Brgy. 179 in Zone 16 Amparo Subd., Brgy. 178 in Camarin, Celina Homes 2 Subdivision in Deparo, Community Water Service Cooperative of Bagong Silang – Maharlika & Damayan in Caloocan; Manolo Compound in Dalandanan HOA and San Agustin Village, Mapulang Lupa in Valenzuela; Brgy. North Bay Boulevard South in Navotas; and Malabon People's Village HOA Inc. Phase 1 and Gonzales Estate in Malabon may avail of this cleaning service, which normally costs around P2,500 per truck.
In the South, areas along Putatan Road and Brgy. Tunasan in Putatan, Manuel Quezon Ave. Purok 1 – 6 and Villonco Subd. in Brgy. Sucat, Muntinlupa; Everlasting Subd., Pag-ibig Subd., Angela Village & HappyVille Subd. in Brgy. Talon 4 and Hansuyin Subd., Talon Village, Paraiso Subd., Equitable Village & Sihanouk Subd. in Brgy. San Antonio Valley 17, Las Piñas; Parkview Homes in Brgy. Sunvalley, Better Living & Reman Ville, Annexes 3A, 38, 42 & 46, and Camella 4 in Brgy. Don Bosco, Severina Diamond in Brgy. Marcelo Green, Garden City in Brgy. San Isidro, Brgy. San Dionisio, UPS4 – Seacom (Sampaguita Hills), Lopena Compound- Fourth Estate, Finasia Homes & Lower Fatima in San Antonio Valley I, Sun Antonio Valley 3, 5 & 8 – 11, Parañaque; and Brgys. 38 – 40 in Zone 5, Caridad, Cavite City may also avail of this service.
Maynilad President Victorico P. Vargas urged the company's customers to avail of the septic tank cleaning. "Aside from protecting the health of their family and community, they also help protect the environment," he said.
Maynilad customers interested in availing of the company's septic tank cleaning service may call the Maynilad Hotline 1626 to inquire regarding the requirements and procedures. Additional information regarding Maynilad and its services is also available at www.mayniladwater.com.ph.

PHOTO CAPTION: Maynilad customers who want to protect their health and care for the environment can contact the West zone concessionaire for the septic tank cleaning service.