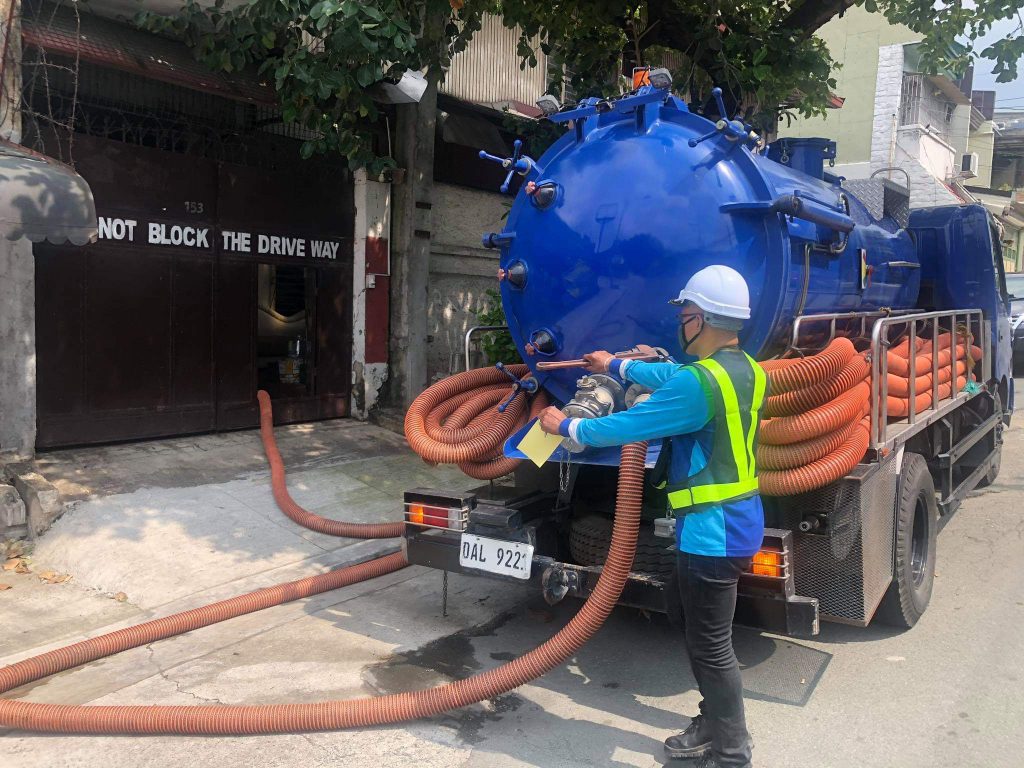 West Zone concessionaire Maynilad Water Services, Inc. (Maynilad) resumes operations of its septic tank cleaning services to residential and semi-business customers this May in select parts of Caloocan, Las Piñas, Makati, Malabon, Manila, Muntinlupa, Parañaque, Pasay, Quezon City, Valenzuela, and in Cavite Province at no extra cost.
The company has adopted new and more stringent protocols in the conduct of desludging services to ensure the safety of its customers who will avail of the septic tank cleaning. Maynilad requires all of its desludging personnel and vacuum truck unit operators to wear personal protective equipment (PPE), practice physical distancing, and undertake extra disinfection procedures to protect against the spread of COVID-19.
"We have made our already-stringent desludging safety protocols even stricter, to assure our customers that we are taking all necessary steps to protect them from possible COVID-19 infection as we deliver our desludging services in their homes," said Maynilad COO Randy T. Estrellado, adding that customers should avail of the service because it helps to protect community health and the environment.
Customers residing in Barangay 30, 54, 55, 71, 152, 154, 162 and 177 in Caloocan; Brgy. Almanza Uno and Dos, BF International Village, Daniel Fajardo, Elias Aldana, Ilaya and Manuyo Uno and Dos in Las Piñas; Brgy. Bangkal, Magallanes, Palanan, Pio del Pilar and San Isidro in Makati; Brgy. Potrero and San Agustin in Malabon; barangays under Ermita, Malate, Paco, Pandacan, Quiapo, Sampaloc, San Nicolas, Santa Ana, Santa Cruz and Tondo in Manila; Brgy. Alabang and Cupang in Muntinlupa; Brgy. Baclaran and BF Homes in Parañaque; Brgy. 183 and those under Don Carlos, Malibay and Pildera 1 in Pasay City; Brgy. Apolonio Samson, Baesa, Bahay Toro, Balingasa, Balong Bato, Batasan Hills, Del Monte, Doña Imelda, Greater Fairview, Gulod, Holy Spirit, Kaligayahan, Lourdes, Maharlika, North Fairview, Payatas, Saint Peter, Santa Lucia, Santa Teresita, Santo Domingo, Santol, Sauyo, Talipa, Tatalon and Veterans Village in Quezon City; Brgy. Balangkas, Bisig, Canumay East and West, Coloong, Dalandanan, Isla, Karuhatan, Malanday, Marulas and Maysan in Valenzuela City may avail of Maynilad's desludging service.
Moreover, some Maynilad customers in Cavite Province, particulary in Brgy. Aniban I, II, IV and V, Banalo, Bayanan, Campo Santo, Daang Bukid, Dulong Bayan, Kaingin, Maliksi II and III and Mambog I to III in Bacoor City; Brgy. 18, 19, 23, 26, 28, 29, 31, 35, 37, 37-A, 38-A, 40, 41, 42-A, 42-M, 45-M, 46, 47-A, 49-A, 51, 52, 57, 58-A, 60, 61 and 61-A in Cavite City; Brgy. Anabu I-C, Bucandala IV, Buhay na Tubig, Pag-Asa I to III, Palico II to IV, Poblacion II-A and II-B, Poblacion III-A and III-B and Poblacion IV-C and IV-D in Imus City; and in Salcedo I and II and San Rafael I and II in Noveleta, Cavite may avail of the company's septic tank cleaning services at no extra cost. Septic tank cleaning service normally costs around Php5,000 per truck.
Maynilad customers interested in availing of the company's septic tank cleaning service may call the Maynilad Hotline 1626 to determine the requirements and procedures. Additional information is also available in the company's website, www.mayniladwater.com.ph, and social media accounts (Twitter: @maynilad, Facebook: /MayniladWater).
Maynilad is the largest private water concessionaire in the Philippines in terms of customer base. It is the agent and contractor of the Metropolitan Waterworks and Sewerage System (MWSS) for the West Zone of the Greater Manila Area, which is composed of the cities of Manila (certain portions), Quezon City (certain portions), Makati (west of South Super Highway), Caloocan, Pasay, Parañaque, Las Piñas, Muntinlupa, Valenzuela, Navotas and, Malabon, all in Metro Manila; the cities of Cavite, Bacoor and Imus, and the towns of Kawit, Noveleta, and Rosario, all in Cavite Province.