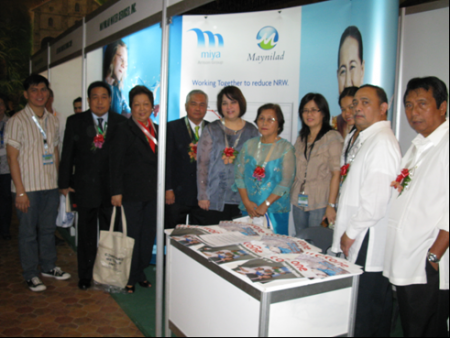 The fight against Non-Revenue Water (NRW) – or water lost to illegal connections and leaks — in the West Zone of the Greater Manila Area served as the highlight in Maynilad's exhibit during the 17th Philippine Water Works Association (PWWA) International Conference and Exhibition on Water Resources Management (Philwater 2009) at Tagbilaran City, Bohol.
Maynilad's Central Non-Revenue Water (CNRW) Division, in partnership with international water loss management company Miya, is gaining ground in the war against NRW after it attained a 6 percent reduction in NRW.  The team was able to bring down water loss in the West Zone from an average of 67% to just 61% as of October 2009.
The accomplishment — the company's lowest NRW level since the 1997 privatization — resulted from Maynilad's concerted and continued effort and its Capital Expenditure projects designed to address NRW.  Maynilad aims to reduce NRW in the West Zone down to 40% by 2012.
Shown at the Maynilad PWWA booth are (from left) Maynilad CNRW Planning head Sherwin Mendoza, PWWA Board of Directors Emeric Asuncion and Aurora Raymundo Arnaiz, PWWA president Romeo Calara, Dr. Sharlene Lim (wife of Tagbilaran City mayor Dan Neri Lim), Peregrina Aumentado (wife of Gov. Erico Aumentado), Maynilad CNRW Engineering and Construction head Yolanda Lucas, Maynilad Leak Detection Management supervisor Christine Acosta, Maynilad Environmental Management head Francisco Arellano, and Tagbilaran city administrator Walter Toston.