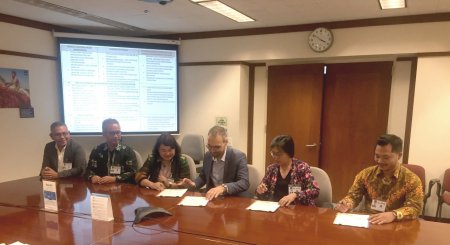 Maynilad Water Services, Inc. (Maynilad), through its education arm Maynilad Water Academy, recently mentored officials of the City Government of Singkawang and the Singkawang Water Utility Company in Indonesia on water loss management under a "water operators partnership" (WOP) with the Asian Development Bank (ADB).
Under the WOP Program, ADB partners with established water operators to promote capacity-building, financial sustainability, and improvements on water operations of several water districts in Asia.
In the photo, Maynilad Water Academy Executive Director Rodora Gamboa (5th from left) signs the memorandum of understanding for this training partnership together with ADB Senior Water Utility Specialist Stephane Bessadi (4th from left) and representatives of the City Government of Singkawang headed by Secretary Sumastro Mas Saimin  (2nd from left) and Water Utility Director Kristina Kilin (3rd from left).