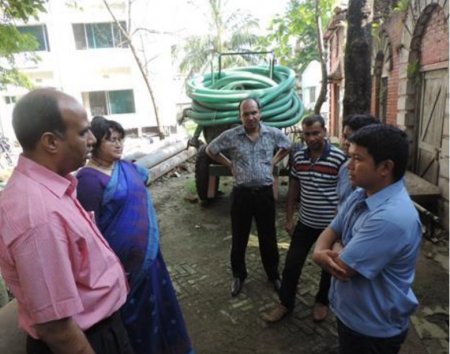 West Zone concessionaire Maynilad Water Services, Inc. (Maynilad), through the Asian Development Bank, will enter into a Septage Management Twinning Partnership with the People's Republic of Bangladesh.
Under this partnership, Maynilad will mentor three municipal corporations (locally referred to as "Pourashavas") in Bangladesh, namely: Chuadanga, Jessore and Magura. These areas practice septic tank desludging, but two of the three municipalities do not have wastewater treatment plants, resulting in uncontrollable wastewater disposal.
The goal of Maynilad is to assist in the development of septage management plans for the Pourashavas. Moreover, the company will also conduct an assessment to identify gaps and opportunities for each area, as well as technical and managerial capacity-building trainings for their personnel.
In return, this twinning program will also help Maynilad employees by exposing them to the different conditions and challenges of water and wastewater service providers outside of Metro Manila. This will broaden the employees' perspective and further hone their expertise.
"Proper management of septage is necessary for public health. We understand the urgent need to help these communities in Bangladesh, and we are more than willing to share our knowledge on septage management so that more people will benefit from a cleaner and healthier environment," said Maynilad President and CEO Ricky P. Vargas.
PHOTO CAPTION: Maynilad Septage Management Head Ryan Orillo (right) is briefed on current wastewater management practices at Jessore by Bangladesh's Urban Governance and Infrastructure Improvement Project Manager Jamanur Rahman (left) as part of the Twinning Partnership where Maynilad will mentor three municipalities in Bangladesh on septage management.