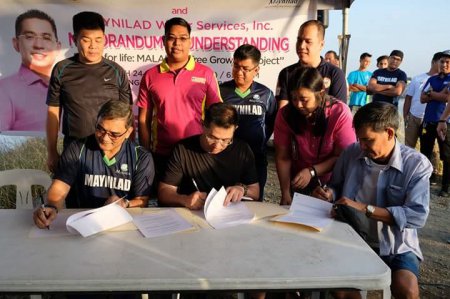 Malabon Mayor Antolin Oreta III (center), Maynilad Water Services, Inc. (Maynilad) President and CEO Ramoncito S. Fernandez (seated left) and Dampalit Kagawad Jaime Guerrero (seated, right) sign a Memorandum of Understanding (MOU) to clean up, rehabilitate, and preserve Tullahan River through reforestation and river stabilization initiatives in the city.
Tullahan River is one of the major tributaries of Manila Bay. In compliance with the Supreme Court Mandamus to rehabilitate Manila Bay, Maynilad expanded its "Plant for Life" reforestation and afforestation program to include the Tullahan River. Maynilad partnered with Malabon City to conduct the "Plant for Life: Malabon Tree-Growing Project", which involves planting mangrove propagules along the portions of Tullahan River within Malabon. Mangroves can adsorb contaminants, serve as spawning area for aquatic life, and protect the river bank from soil erosion.
Through the MOU, Maynilad aims to plant about 50,000 mangrove propagules in Malabon.
Present to witness the MOU signing are (standing, from left) Councilor Ricky Bernardo, Councilor Jose Lorenzo Oreta, Maynilad Corporate Quality, Environment, Safety and Health head Atty. Roel Espiritu, Department of Interior and Local Government (DILG) city director Emmanuel Borromeo, and City Environment and Natural Resources Office (CENRO) head of Environment Management Beth Gutierrez.
Since Maynilad started its "Plant for Life" program in 2009, it has already planted more than 636,000 trees and mangroves over an area of 338.4 hectares within vital watersheds.