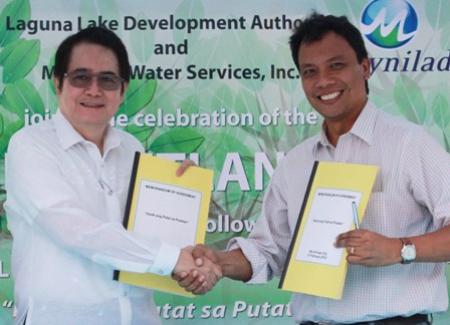 West Zone concessionaire Maynilad Water Services, Inc. (Maynilad) and the Laguna Lake Development Authority (LLDA) signed an agreement to implement watershed restoration activities that will help stabilize riverbanks and lakeshores in the Muntinlupa area.
Dubbed "Ibalik ang Putat sa Putatan," the initiative seeks to minimize sedimentation and siltation at the Laguna Lake and its tributary rivers through the planting of Putat trees in several areas of the Muntinlupa watershed. Putat is a type of tree that used to grow abundantly in this area and was the basis for the name of Barangay Putatan in Muntinlupa.
In the agreement, Maynilad committed to provide 500 square meters of land for the establishment of a temporary nursing facility for the tree saplings. Once the Putat saplings reach maturity, Maynilad employees will implement actual tree planting within the shore land of Barangay Putatan under the technical guidance of LLDA.
Maynilad will also provide capacity building activities for local inhabitants on the maintenance of the reforested areas to promote environmental values among communities in the area.
This agreement is in line with the National Greening Program (NGP) of the government, which mandates all government agencies, government-owned and controlled corporations, and state universities and colleges to plant some 1.5 billion trees covering approximately 1.5 million hectares from 2011 to 2016. For this year, NGP aimed to reforest 200,000 hectares with 200 million seedlings.
"We fully support the LLDA's reforestation and afforestation activities in Barangay Putatan because it's another opportunity to fulfill our company's commitment to environmental conservation. At the same time, we can teach the local communities how they can contribute to the effort of protecting Laguna Lake," said Maynilad President and CEO Ricky P. Vargas.
Maynilad is the largest private water concessionaire in the Philippines in terms of customer base.  It is a concessionaire of the Metropolitan Waterworks and Sewerage System (MWSS) for the West Zone of the Greater Manila Area, which is composed of the cities of Manila (all but portions of San Andres & Sta. Ana), Quezon City (west of San Juan River, West Avenue, EDSA, Congressional, Mindanao Avenue, the northern part starting from the Districts of the Holy Spirit & Batasan Hills), Makati (west of South Super Highway), Caloocan, Pasay, Parañaque, Las Piñas, Muntinlupa, Valenzuela, Navotas and Malabon all in Metro Manila; Cavite City, and the towns of Bacoor, Imus, Kawit, Noveleta and Rosario, all in Cavite Province.
IN PHOTO: Maynilad President and CEO Ricky P. Vargas (left) and Presidential Adviser for Environmental Protection and LLDA General Manager J.R. Nereus O. Acosta, Ph.D. (right) present the signed MOA for the "Ibalik and Putat sa Putatan" program.