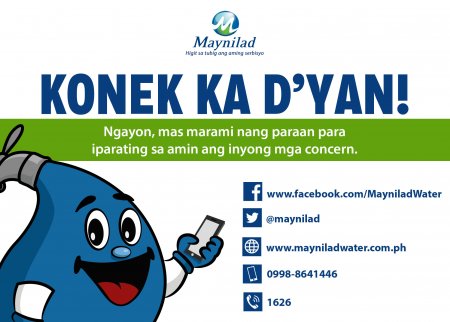 Starting August 1, customers of West Zone concessionaire Maynilad Water Services, Inc. (Maynilad) may reach its customer service agents through SMS (short message service) and through social media channels Facebook and Twitter.
These new channels of communication are addition to Maynilad's customer service Hotline 1626 and corporate website www.mayniladwater.com.ph.
Inquiries on water services—billing concerns, service interruptions, application requirements, septic tank desludging—and reports of pipe leaks or illegal connections, among other concerns, may now be sent to Maynilad via its new Text Hotline 0998-864-1446. To avail of this service, customers should type MAYNILAD <space> 8-digit Contract Account Number> <space> Complete Name <space> Message.
Maynilad customers may now also send their concerns through Maynilad's official social media accounts in Facebook (www.facebook.com/MayniladWater) and Twitter (@maynilad). Company updates and news may also be seen on Maynilad's FB and Twitter accounts.
"Part of our efforts to improve services to our almost 9 million customers is to ensure that we are more accessible to them. With these new customer touchpoints, we hope to become more responsive to their concerns," said Maynilad President and CEO Ricky P. Vargas.
Maynilad is an agent and contractor of the Metropolitan Waterworks and Sewerage System (MWSS) for the West Zone of the Greater Manila Area, which is composed of the cities of Manila (certain areas), Quezon City (certain areas), Makati (certain areas), Caloocan, Pasay, Parañaque, Las Piñas, Muntinlupa, Valenzuela, Navotas and Malabon—all in Metro Manila; the cities of Cavite, Bacoor and Imus, and the towns of Kawit, Noveleta and Rosario—all in Cavite Province.