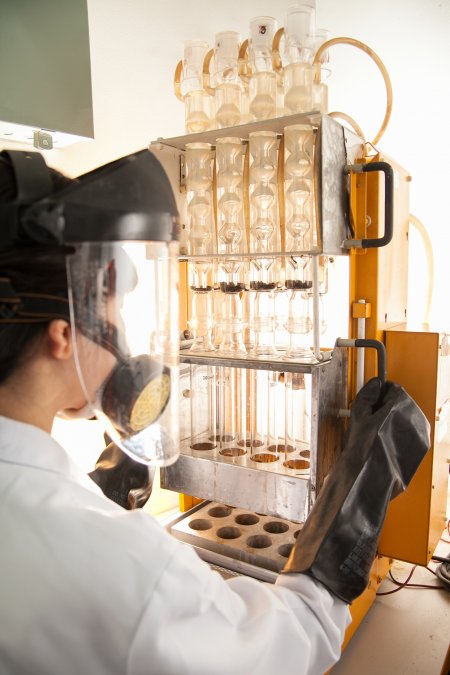 The Central Laboratory of West Zone concessionaire Maynilad Water Services, Inc. (Maynilad) has secured its accreditation as an environmental testing laboratory of the Department of Environment and Natural Resources (DENR).
Maynilad's Central Laboratory, which monitors and tests the quality of water and wastewater in the West Zone, passed the stringent assessment of DENR which was conducted in the last quarter of 2015. This accreditation substantiates the Central Laboratory's high standards when it comes to the quality, accuracy and precision of chemical and microbiological testing results it generates.
Moreover, the water company is now authorized by DENR to generate environmental data in connection with the Environmental Impact Assessment (EIA) system, environmental monitoring, and research activities to be used by the government for environmental planning and policy-making.
Prior to the DENR accreditation, Maynilad's Central Laboratory was conferred with the ISO 17025:2005 by the Department of Trade and Industry (DTI)-Philippine Accreditation Bureau (PAB). It is also accredited by the Department of Health (DOH) as a laboratory for drinking water analysis.
"This DENR accreditation is a validation of Maynilad's continuous effort to ensure that the water and wastewater produced by our treatment facilities pass the country\'s strict standards," said Maynilad President and CEO Ramoncito Fernandez.
Maynilad is the largest private water concessionaire in the Philippines in terms of customer base. It is the agent and contractor of the Metropolitan Waterworks and Sewerage System (MWSS) for the West Zone of the Greater Manila Area, which is composed of the cities of Manila (certain portions), Quezon City (certain portions), Makati (west of South Super Highway), Caloocan, Pasay, Parañaque, Las Piñas, Muntinlupa, Valenzuela, Navotas and Malabon all in Metro Manila; the cities of Cavite, Bacoor and Imus, and the towns of Kawit, Noveleta and Rosario, all in Cavite Province.