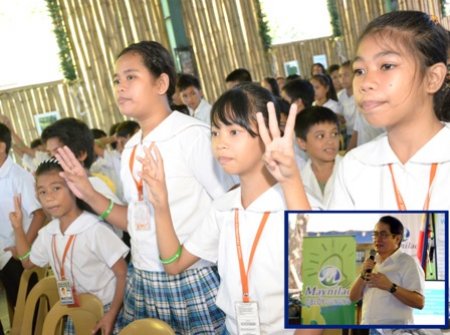 West Zone concessionaire Maynilad Water Services, Inc. (Maynilad) recently kicked off an education program that seeks to engage the youth on the importance of water to health and of caring for the environment.
Titled Daloy Dunong, the program involves visiting schools in the West Zone so students can participate in fun audio-visual lectures, puppet shows and water-themed games that tackle responsible use of water, health benefits of water, and the environmental ills that effect water supply. Maynilad aims to visit 80 schools this year.
Maynilad President and CEO Ricky Vargas graced the Daloy Dunong kickoff held at the Commonwealth Elementary School in Quezon City.
The Daloy Dunong program also encourages students to become "Water Warriors" for their respective communities—advocates who promote the importance of clean and safe water to health and the environment. The Water Warrior advocacy was first launched in 2012 and already has over 14,000 recruits who pledged their support for the growing water movement.
"Through Daloy Dunong, we hope to make Water Warriors of the young generation so they can continue our efforts of water resource conservation and environmental protection," Maynilad President Ricky Vargas said.
IN PHOTO: Students of Commonwealth Elementary School in Quezon City swear to become Water Warriors in an oath-taking led by Maynilad President and CEO Ricky Vargas (inset).