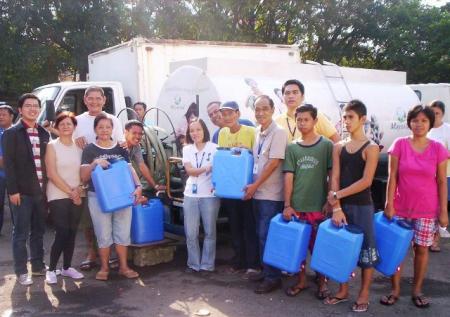 West Zone concessionaire Maynilad Water Services, Inc. (Maynilad) and Malaysian firm Indah Water Konsortium ventured in another Twinning partnership to co-mentor local government units and water districts in the Philippines in developing septage management programs.
USAID Environmental Cooperation-Asia (ECO-Asia), proponent of Twinning collaborations between water and wastewater utilities, launched the program with a three-day workshop in Kuala Lumpur, Malaysia.
As part of the workshop, Maynilad Sewerage and Sanitation Head Engr. Antonio Garcia and Corporate Social Responsibility Head Risse Aquino-Jose gave an overview of the company's wastewater projects and operations to representatives of the LGUs and water districts of Baliwag, Cabanatuan, Calamba, Cebu and Laguna.  This is the first of a series of capacity-building workshops under the one-year Twinning arrangement.
Maynilad and IWK will provide technical advice and training to the five water districts on aspects of septage management such as technology selection, facility design, operations, and maintenance and collection system management.
Aside from improving the capacity of the recipient utilities, the partnership also aims to institutionalize effective septage management programs that can be disseminated to other cities in the Philippines.
IN PHOTO: (L-R) Philippine Sanitation Alliance's (PSA) Nene Narvaez, Maynilad Sewerage and Sanitation Head Tony Garcia, Calamba Water District Chairman Mario Villasan, Baliwag Water district General Manager Art Baylosis, Maynilad President Ricky Vargas, IWK Head of Engineering Ir.Mohd Adnan MD Dom, USAID, ECOASIA Regional Coordinator Jay Tecson, and Maynilad CSR Head Risse Aquino-Jose finalize the program for sharing best practices on septage management.