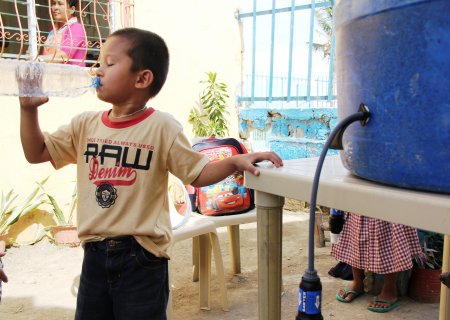 West Zone concessionaire Maynilad Water Services, Inc. (Maynilad) is installing over 400 water filtration systems in parts of Cebu, Iloilo, Leyte and Samar, to help in the rehabilitation of calamity-stricken communities in the Visayas.
The filtration systems use Sawyer PointONE™ technology which can convert water from any source through its gravity-operated filter without the need for electricity or added chemicals. Each of the system's filters can produce some 1,440 liters of water per day, which is enough to address the daily requirements of around 20 families. The filtration system can be used for 10 years.

250 water filtration systems were installed in Bogo City, Medellin, and Daan Bantayan in Cebu. Meanwhile, 70 filters were set-up in Palo and Tanauan in Leyte, and 80 filters in Marabut, Samar. Maynilad is currently coordinating with the Iloilo City Trade and Investment Foundation and the local government of Iloilo to identify recipient communities.
Before installing the filters, Maynilad checked the quality of the water it produces to make sure it conforms to the Philippine National Standards for Drinking Water (PNSDW). Thru its local partners, Maynilad trained the communities on how to operate and maintain the filtration systems.

Maynilad is also working in coordination with the Philippine Water Sanitation and Hygiene (WASH) Cluster, co-led by the Department of Health (DoH) and United Nations Children's Fund (UNICEF), the Local Water Utilities Administration and various local government units of the said areas. The company has also teamed up with Doc Hendley, a North Carolina clean-water activist who had also been honored as a top 10 CNN Hero in 2009.

"We want to go beyond providing 'relief' to our countrymen in the Visayas. With these systems, we aim to empower them by providing sustainable means to have access to potable water," said Maynilad President and CEO Ricky P. Vargas.
Maynilad is the largest private water concessionaire in the Philippines in terms of customer base. It is the concessionaire of the MWSS for the West Zone of the Greater Manila Area, which is composed of the cities of Manila (all but portions of San Andres & Sta. Ana), Quezon City (west of San Juan River, West Avenue, EDSA, Congressional, Mindanao Avenue, the northern part starting from the Districts of the Holy Spirit and Batasan Hills), Makati (west of South Super Highway), Caloocan, Pasay, Parañaque, Las Piñas, Muntinlupa, Valenzuela, Navotas and Malabon—all in Metro Manila; the cities of Cavite, Bacoor and Imus, and the towns of Kawit, Noveleta and Rosario—all in Cavite Province.
PHOTO: A resident drinks the water from a shallow well processed through the filtration system installed by Maynilad in Barangay Anonang Norte, Bogo City, Cebu.