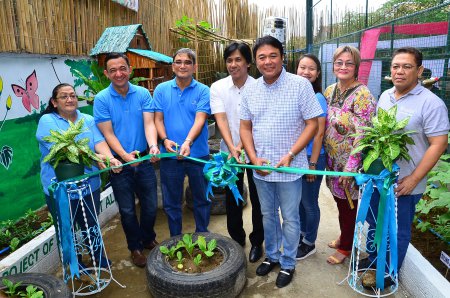 West Zone concessionaire Maynilad Water Services, Inc. (Maynilad) donated an overhead water tank and drip irrigation system to Barangay Moonwalk in Parañaque City—the sixth barangay to benefit from the city government's home food security program "Food Always in the Home (FAITH) Gardens."
Maynilad has pledged to provide water tanks and drip irrigation systems for all 16 barangays in Parañaque in support of FAITH Gardens, which aims to augment food supply by providing a steady source of fresh vegetables for free.
The inauguration of the FAITH Garden in Moonwalk was attended by Parañaque officials led by Mayor Edwin Olivarez and Barangay Moonwalk captain Obet Alano, and Maynilad officials led by President and CEO Ramoncito S. Fernandez and COO Randolph T. Estrellado.
"More than five years ago, the 16 barangays here did not have potable water. Now, 98% of Parañaque is Maynilad-supplied, and we hope that in one or two years' time, it will become 100%. We thank the whole Maynilad organization for their tireless support to the city of Parañaque, and for making it a more liveable city," said Mayor Olivarez.
A highlight of the event was the holding of a Maynilad Ginhawa Gardening workshop, in partnership with the Parañaque City Agriculture Office and the Cleanliness, Beautification and Sanitation Committee. More than 200 workshop participants were taught practical urban gardening techniques like hydroponics, edible landscaping, and vertical gardening.
"We have extended our support of Parañaque City's FAITH Gardens initiative by organizing these Ginhawa Gardening workshops for the communities. Through it, we hope to contribute to the city's goal of promoting proper nutrition and environmental responsibility," said Fernandez.
Maynilad is the largest private water concessionaire in the Philippines in terms of customer base. It is the agent and contractor of the Metropolitan Waterworks and Sewerage System (MWSS) for the West Zone of the Greater Manila Area, which is composed of the cities of Manila (certain portions), Quezon City (certain portions), Makati (west of South Super Highway), Caloocan, Pasay, Parañaque, Las Piñas, Muntinlupa, Valenzuela, Navotas and, Malabon, all in Metro Manila; the cities of Cavite, Bacoor and Imus, and the towns of Kawit, Noveleta, and Rosario, all in Cavite Province.
IN PHOTO: Maynilad officials led by President and CEO Ramoncito S. Fernandez (3rd from left) and Parañaque City Mayor Edwin Olivarez (5th from left) officially open the "Food Always in the Home (FAITH) Garden" at Brgy. Moonwalk, Parañaque City. Maynilad supports the city's home food security program through the provision of water tanks and drip irrigation systems.