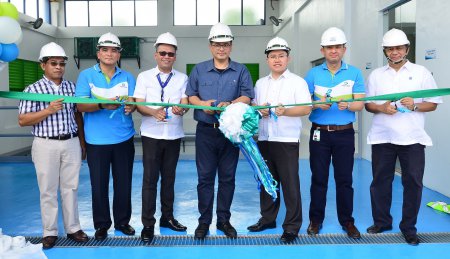 West Zone concessionaire Maynilad Water Services, Inc. (Maynilad) formally inaugurated a new pumping station and reservoir in Barangay Tunasan, Muntinlupa City, which will improve supply availability and pressure for some 46,000 customers in the area.
Present during the inauguration were Muntinlupa Congressman Ruffy Biazon, Muntinlupa Deputy City Administrator Roger John Smith, Metropolitan Waterworks and Sewerage System (MWSS) Regulatory Office Chief Regulator Patrick Ty, and Maynilad officials led by President and CEO Ramoncito Fernandez.
The P248-million Victoria Homes Pump Station and Reservoir was constructed to bring potable surface water to Maynilad customers in Barangays Poblacion and Tunasan, who used to rely on deep wells for their water needs. Although not yet fully operational, the facility is now able to boost water supply to elevated portions of Victoria Homes Subdivision, which previously had no water access.
Once Maynilad starts operating its new water treatment facility in Barangay Putatan by 2018, the Victoria Homes Pump Station and Reservoir will be able to provide its served areas with uninterrupted water supply at a strong pressure of 16 psi (pounds per square inch).
Rep. Biazon lauded the impact of Maynilad's new facility, saying he has witnessed first-hand the water challenges of Muntinlupa over the years. "Since deep wells are not a sustainable water source, there was a need for us to have this more permanent solution. We are looking forward to more services from Maynilad. Thank you for your expansion in Muntinlupa."
MWSS Chief Regulator Patrick Ty noted the vast improvements in service levels owing to continued investments in the West Zone. "I commend Maynilad for its hard work and for turning things around after 10 years. This goes to show that our PPP (Public-Private Partnership) really does work."
Maynilad now has 28 pumping stations and 32 reservoirs located in strategic locations throughout its West concession area—up from only seven operational pumping stations in 2006 before the company was re-privatized.
Maynilad is the largest private water concessionaire in the Philippines in terms of customer base. It is the concessionaire of the MWSS for the West Zone of the Greater Manila Area, which is composed of the cities of Manila (all but portions of San Andres & Sta. Ana), Quezon City (west of San Juan River, West Avenue, EDSA, Congressional, Mindanao Avenue, the northern part starting from the Districts of the Holy Spirit & Batasan Hills), Makati (west of South Super Highway), Caloocan, Pasay, Parañaque, Las Piñas, Muntinlupa, Valenzuela, Navotas and Malabon all in Metro Manila; the cities of Cavite, Bacoor and Imus, and the towns of Kawit, Noveleta and Rosario, all in Cavite Province.
PHOTO CAPTION:
Maynilad President and CEO Ramoncito S. Fernandez (2nd from left), MWSS Chief Regulator Atty. Patrick N. Ty (5th from left), and Muntinlupa City Congressman Ruffy B. Biazon (center) cut the ribbon to formally inaugurate Maynilad's Victoria Homes Pump Station and Reservoir in Muntinlupa City. The P248-million facility was built to supply potable, surface water to some 46,000 Maynilad customers in the area. Also in the photo are (from left) Victoria Homes Homeowners Association President Jun Evangelista, Muntinlupa Deputy City Administrator Roger John Smith, Maynilad COO Randolph T. Estrellado, and D.M. Consunji, Inc. SVP for Utilities and Plant Strategic Business Unit David R. Villaviray.