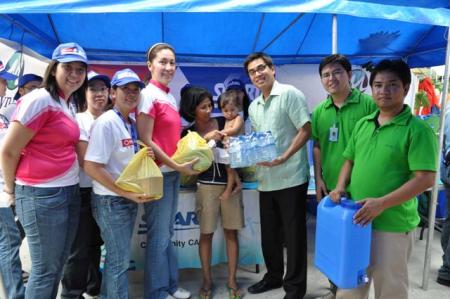 West Zone concessionaire Maynilad Water Services, Inc. (Maynilad) donated over 3,200 pieces of bottled water and 1,100 pieces of five gallon water jugs to the victims of the August 26 fire in Navotas City. 
A Maynilad water tanker was also deployed to the four evacuation centers – at the Navotas Sports Complex, San Rafael Village, North Bay Boulevard North (NBBN), and North Bay Boulevard South (NBBS) – to provide the fire victims with potable water.  Maynilad sister company, PLDT-Smart also gave away hygiene kits to go with the clean water and jugs.
According to the Navotas local government, the fire displaced about 1,500 families and destroyed properties amounting to P10 million.
"We're very grateful to Maynilad for the water and the jugs, especially now that we're trying to maintain hygiene and control the spread of diseases despite the short supply of provisions in the evacuation sites," Navotas City welfare aide, Jacinto M. Chua, Jr. said.
Maynilad also launched a fund drive among its employees to solicit donations such as clothes, blankets and other basic necessities for the fire victims.
PHOTO CAPTION: Maynilad and PLDT-Smart worked with Navotas Mayor John Rey Tiangco in distributing potable water and hygiene kits to the fire victims.