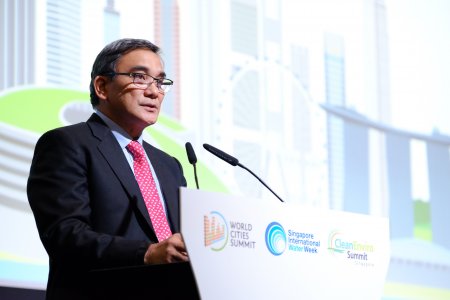 Water solutions experts from Maynilad Water Services, Inc. (Maynilad) led by President and CEO Ramoncito S. Fernandez recently presented before an audience of ASEAN leaders and global water professionals at the 7th Singapore International Water Week (SIWW).
In the SIWW's "Southeast Asia Business Forum", Fernandez (in photo) discussed the various business trends, challenges and opportunities in the Philippines and highlighted Maynilad's strategies in addressing water and wastewater challenges.
Meanwhile, Maynilad's Quality, Environment, Safety and Health (CQESH) head Francisco Arellano and CQESH Planning, Development, Implementation and Certifications head Kris Catangcatang showcased a poster presentation on Sanitation Safety Plans for highly urbanized cities, while Maynilad Social Media head Karmina Alejandro talked about the company's information, education and communication campaigns in SIWW's Young Water Leaders Summit.
Arellano also shared his expertise in wastewater management and sustainability efforts during the "Green Growth and Business Forum" in the parallel World Cities Summit.
Organized by Singapore's Ministry of the Environment & Water Resources and PUB, SIWW is the global platform to share and establish innovative water solutions. The biennial convention gathers global water industry practitioners to share best practices, showcase the latest technologies and tap business opportunities.
The 7th SIWW was held in conjunction with the 5th World Cities Summit and the 3rd CleanEnviro Summit Singapore.