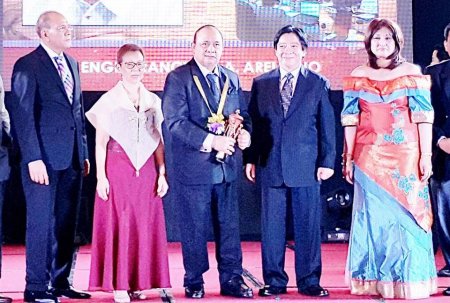 Engr. Francisco A. Arellano—head of the Quality, Environment, Safety and Health division of Maynilad Water Services, Inc. (Maynilad)—was hailed as "Outstanding Chemical Engineer" by the Professional Regulation Commission (PRC) during this year's PRC Awards Night held at the Manila Hotel recently.
Arellano is among 36 outstanding professionals recognized by the PRC for exemplifying excellence in their profession and contributing significantly in their respective fields. Of these awardees, five—including Arellano—were among the finalists for the Eric Nubla Excellence Award, which is accorded to individuals who surpass specific criteria to be an outstanding professional.
An engineer accredited with the Asia-Pacific Economic Cooperation (APEC), Association of Southeast Asian Nations (ASEAN) and Annual Country Portfolio Evaluation Report (ACPER), Arellano has been instrumental in enabling Maynilad to attain company-wide ISO certification. He also spearheaded the development of the Maynilad Water Safety Plan (WSP)—the first of its kind in the country, and used by the World Health Organization and Department of Health as a model for developing WSPs for other areas.
"This, for me, is the ultimate award any chemical engineer can receive. I am thankful to the PRC for this recognition, and also to Maynilad for providing the enabling environment to practice my profession and pursue my various advocacies," Arellano said.
PHOTO CAPTION: Maynilad's Quality, Environment, Safety and Health head, Engr. Francisco A. Arellano (center), receives the "Outstanding Chemical Engineer" award from Professional Regulation Commission officials (L-R) Outstanding Professionals Organization president Rodolfo Peñalosa, commissioner Angeline Chua Chiaco, chairperson Teofilo Pilando Jr., and commissioner Yolanda Reyes.