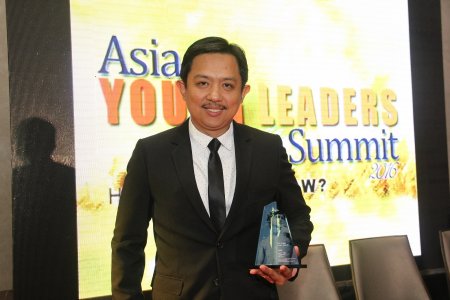 Maynilad executive, Engr. Apollo C. Tiglao, presented to an audience of prominent new generation leaders during the recently concluded Asia Young Leaders Summit 2016. In his presentation, Tiglao shared his career progression from Maynilad cadet engineer, to President and CEO of Maynilad subsidiary, Subic Water and Sewerage Co., Inc.
The transformational leadership of 36-year-old Tiglao has earned this Maynilad executive recognition as finalist in last year's Asia CEO Awards.
The Asia Young Leaders Summit 2016 presented the stories of the country's esteemed new generation of leaders. It was attended by over 200 participants, consisting of a diverse group of corporate leaders—CEOs, ambassadors and up-and-coming young managers from many of the fastest growing companies in Philippines.
The summit is part of the Asia CEO Forum, the largest regular networking event for the business community in the Philippines.