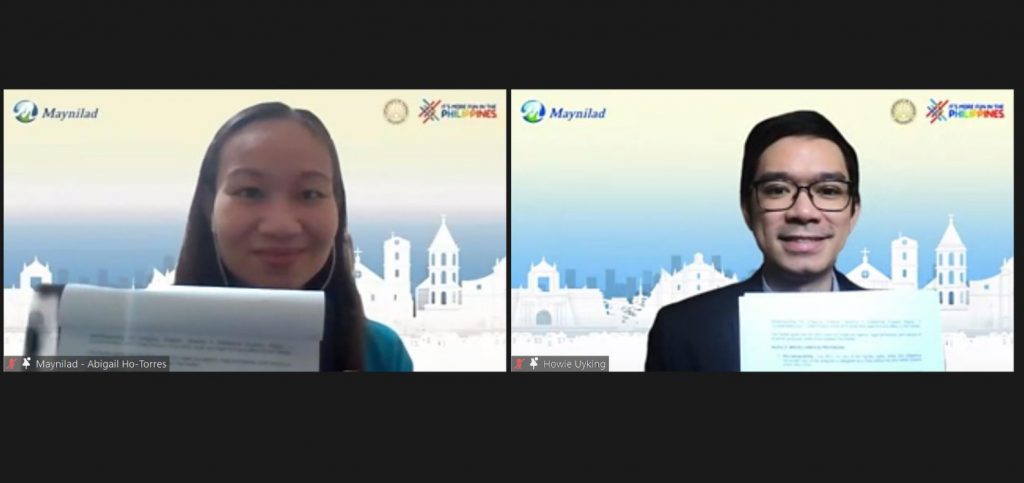 West Zone concessionaire Maynilad Water Services, Inc. (Maynilad) and The Department of Tourism (DOT) inked on Thursday an agreement to launch a wastewater management campaign that will help raise public awareness about environmental protection and sustainable tourism.
Under the "Maynilad Kubeta PH X It's More Fun in the Philippines" partnership, the DOT and Maynilad will award the Seal of Good Toilet-keeping to 24 tourist destinations such as parks, historical sites and restaurants, within the Maynilad service area. For establishments to be conferred the Seal, their restrooms must be consistently clean and well-maintained, and equipped with basic fixtures and amenities, including a working faucet and flush, soap, and toilet paper. They also have to be compliant with government regulations on wastewater management via regular desludging of septic tanks, connection to Maynilad's sewer network, or operation of law-compliant sewage treatment facilities.
The DOT will name the nominees which will be subject to both document and physical audits led by Maynilad's wastewater management team. Only those who will pass the stringent audit process will be awarded the Seal that can be renewed annually.
The Seal affirms the importance of keeping toilets clean and comfortable for tourists and the general public and the need to comply with relevant laws and regulations regarding wastewater management. It also serves as a reminder to tourists and the public about responsible toilet use as part of promoting sustainable tourism.
"DOT is happy to collaborate with Maynilad for this campaign. This is very timely as the current health crisis highlights the critical importance of sanitation and hygiene. Thus, promoting quality, clean, and safe toilets in tourist destinations will also contribute to our efforts to gradually restart tourism activity in our country. For tourism, public toilets are crucial. These should not be only clean but also safe and comfortable for tourists to use. Simple as it may seem, but toilets could make or break a tourist's travel experience," said Tourism Secretary Bernadette Romulo-Puyat during the virtual signing of the Memorandum of Understanding.
The tourism chief highlighted the ASEAN Public Toilet Standard (APTS) which aims to ensure that public toilets at tourist destinations in the region are clean, provide comfort and safety, and practices proper waste management. "The program recognizes facilities that meet the four main criteria: design and environmental management system; amenities and facilities; cleanliness, and safety", added Puyat.
For his part, Maynilad President and CEO Ramoncito S. Fernandez said: "When Maynilad launched Kubeta PH back in 2016, we had one goal in mind – to bring conversations about proper wastewater management to the mainstream. We continue to raise wastewater awareness through this campaign, and this partnership with DOT will help us reach more people."
The Seal of Good Toilet-keeping is the newest component of Maynilad's Kubeta PH campaign, an integrated information, education, and communication campaign that aims to spur positive action from various stakeholders on wastewater management. Other programs under the Kubeta PH umbrella are Kubeta Talks, which advocates connection to Maynilad's sewer network, and the Golden Kubeta Awards, which uses the kubeta as an entry point to educate the public about the need to properly treat wastewater before being discharged to water bodies.
The Seal is an offshoot of the Golden Kubeta Awards. It is part of efforts to encourage public establishments to keep their toilets consistently clean and comfortable and to comply with wastewater-related regulations.
Maynilad is the largest private water concessionaire in the Philippines in terms of customer base. Its service area includes the cities of Manila (all but portions of San Andres and Sta. Ana), Quezon City (west of San Juan River, West Avenue, EDSA, Congressional, Mindanao Avenue, the northern part starting from the Districts of Holy Spirit and Batasan Hills), Makati (west of South Super Highway), Caloocan, Pasay, Parañaque, Las Piñas, Muntinlupa, Valenzuela, Navotas, and Malabon, all in Metro Manila; and the cities of Cavite, Bacoor, and Imus, and the towns of Kawit, Noveleta, and Rosario, all in the province of Cavite.
PHOTO CAPTION: The Department of Tourism (DOT), represented by Assistant Secretary for Branding and Marketing Communications Howard Lance A. Uyking, and Maynilad Advocacy and Marketing Head Abigail Ho-Torres inked the Memorandum of Understanding on "Maynilad Kubeta PH X It's More Fun in the Philippines", a wastewater management campaign that will help raise public awareness about environmental protection and sustainable tourism.