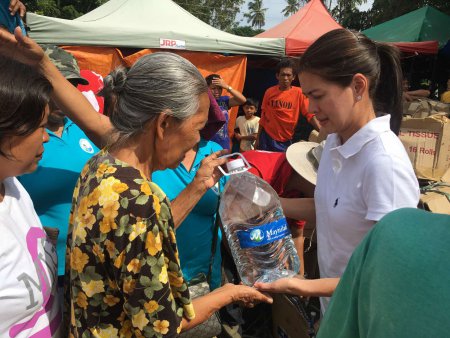 West Zone concessionaire Maynilad Water Services, Inc. (Maynilad) extended its assistance in Mindanao relief efforts by providing safe, drinking water for more than 2,000 earthquake survivors.
Maynilad's hydration assistance include the turnover of 1,200 water gallons, 400 pieces of water containers and 200 pieces of water filters, as well as the deployment of a mobile water treatment plant, to different evacuation centers in Kidapawan City and Tulunan town in Cotabato, and in the town of Magsaysay in Davao del Sur. The mobile water treatment plant can produce 7,000 gallons of potable water per day, enough to supply the needs of some 7,000 families.
The photo shows Maynilad Government Relations head Antonette De Ocampo giving out water gallons to 400 families in Magsaysay.
Maynilad's earthquake relief efforts were done with the support of Alagang Kapatid Foundation, Makati Medical Foundation, Philippine Disaster Resilience Foundation, Philippine Navy, Department of Social Welfare and Development, Office of the Civil Defense, and Air Asia.