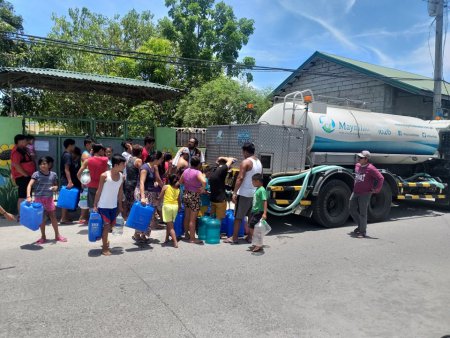 West Zone concessionaire Maynilad Water Services, Inc. (Maynilad) helped in the relief efforts for victims of the recent 6.1 magnitude earthquake that hit Pampanga by providing safe, drinking water for some 1,700 affected families.
The company lent a 10-cubic meter water tanker to the local water district, which used it for three days to deliver potable water to residents of Brgy Diaz and Camias in the town of Porac, and Brgy. Baruya and San Rafael in the town of Lubao. The photo shows residents of Brgy. San Rafael lining up to get water from Maynilad's water tanker. These upland communities experienced water supply interruption and discoloration following the earthquake last April 22.
In addition, Maynilad donated 3,000 pieces of bottled water for the rescue workers deployed in the search and retrieval operations in Porac, Pampanga.
"It is incumbent upon us to do what we can to assist the disaster survivors, and providing potable water is the least we can do at this stage. We are glad to serve our kababayans in Pampanga," said Maynilad President and CEO Ramoncito S. Fernandez.
Maynilad's earthquake relief efforts were done together with the Philippine Disaster Resilience Foundation (PDRF) and Alagang Kapatid Foundation.