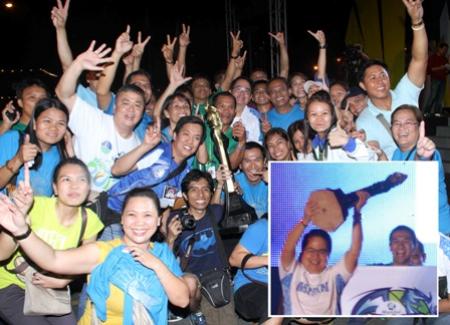 Maynilad Water Services, Inc. (Maynilad) dominated the recently concluded 3rd MVP Olympics for the second straight year, besting 17 other MVP companies, including powerhouse teams Meralco and PLDT, who came in at 2nd and 3rd places, respectively. Approximately 2,000 employee-athletes participated in the annual sports event.

Garnering a total of 19 gold, 8 silver, and 14 bronze medals, Maynilad emerged as the "Overall Champion" in the three-day sports festival that featured various athletic events and fun games.
"Our employees worked hard to defend our crown, and I'm very happy that our collective efforts paid off. This back-to-back championship victory is an indication of how the culture of excellence has become ingrained in the Maynilad organization," said Maynilad President and CEO Ricky Vargas, who himself won a bronze medal in one of the MVP Olympics events.

MVP Sports Foundation EVP and MVP Olympics organizing committee member Patrick Gregorio emphasized the value of the annual sports competition as a unifying event among MVP companies. "This activity promotes a healthy lifestyle among employees, and also provides an atmosphere of fun and camaraderie. But more importantly, it's a celebration of our unity and strength as members of the MVP group of companies."
Other companies that joined the sports fest include Smart, ePLDT, Metro Pacific Investments Corp., TV5/Mediaquest, Philex Mining Corp., Makati Medical Center, Cardinal Santos Medical Center, Davao Doctors Hospital, Our Lady of Lourdes Hospital, Dr. Pablo O. Torre Memorial Hospital, Metro Pacific Tollways Corp., Outback Steakhouse, Digitel, Asian Hospital and Medical Center, and SPI Global.
IN PHOTO: Maynilad contingent celebrating their back-to-back win at the MVP Olympics. (Inset) Maynilad President and CEO Ricky Vargas proudly holding up the "Overall Champion" trophy.