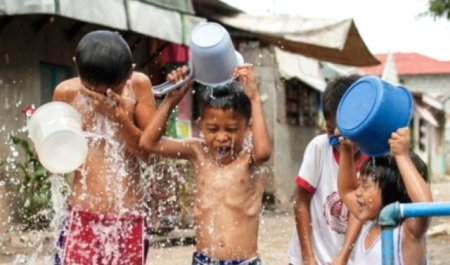 Customers of West Zone concessionaire Maynilad Water Services, Inc. (Maynilad) increased by more than 58% from only 677,985 accounts in 2006 to 1,073,508 accounts by the end of 2012.
Of its current customers, 96% have 24-hour uninterrupted water supply—a dramatic increase from the 32% which enjoyed the same service level in 2006 before Metro Pacific Investments Corporation and DMCI Holdings, Inc. took over Maynilad.
Meanwhile, 99.8% of its customers now have water pressure of at least 7 pounds per square inch (psi). It takes about 7 psi for water to reach the second floor of a building.
These major service improvements were made possible through the company's aggressive capital expenditure program, which involved the refurbishment of previously inoperative facilities, replacement of old leaky pipes, and laying of new distribution lines, among others.
"Transforming water services in the West Zone is just the start for us. We still have a long way to go in terms of wastewater coverage and water security. But with the committed support of our public partner and other stakeholders, I am confident that we can achieve even more in the next five years," said Maynilad President and CEO Ricky P. Vargas said.
This year, Maynilad is set to invest P17.2 billion in the West Zone, its biggest capital expenditure in the 16-year history of the company. From 2007 to 2012, Maynilad spent P37.85 billion to improve and expand its water and wastewater infrastructure.
Maynilad is the largest private water concessionaire in the Philippines in terms of customer base. It is a concessionaire of the MWSS for the West Zone of the Greater Manila Area, which is composed of the cities of Manila (all but portions of San Andres & Sta Ana), Quezon City (west of San Juan River, West Avenue, EDSA, Congressional, Mindanao Avenue, the northern part starting from the Districts of the Holy Spirit & Batasan Hills), Makati (west of South Super Highway), Caloocan, Pasay, Parañaque, Las Piñas, Muntinlupa, Valenzuela, Navotas and Malabon all in Metro Manila; the cities of Cavite, Bacoor and Imus, and the towns of Kawit, Noveleta and Rosario, all in the Cavite Province.

PHOTO CAPTION: More people now enjoy clean, reliable and safe water from Maynilad, thanks to the intensive investment program made by the West Zone concessionaire's new owners, Metro Pacific Investments Corporation and DMCI Holdings, Inc.