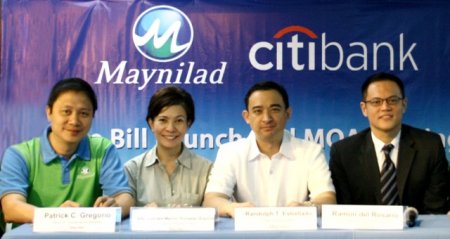 West Zone concessionaire Maynilad Water Services, Inc. (Maynilad) and Citibank recently signed a memorandum of agreement that will allow Maynilad customers to automatically pay or charge their monthly water bill through their Citibank credit cards.
This new bill payment facility is part of Maynilad\'s continuing effort to provide greater convenience for its eight million customers.
Maynilad customers can enroll beginning November 5, 2012 by calling Citibank Customer Service hotline at 995-9999 or faxing an enrollment form to 995-9237. Online enrollment can also be made via www.citibank.com.ph.
Citibank\'s call-out team will also be contacting cardholders to provide further information regarding this new payment facility.
To encourage Citibank credit card holders to enroll, Maynilad's "Mas Madali nang Magbayad, May Rewards Pa" Promo will give prizes to the first 50 validated enrollees via electronic raffle. Prizes include a Kapwa hand care kit, Philippine Popular Music Festival (PhilPOP) CDs, and PBA tickets.
PHOTO CAPTION: Signing the agreement are (From left) Maynilad's Commercial and Marketing head Patrick Gregorio, Legal and Regulatory Affairs head Lourdes Marivic Espiritu, and Chief Finance Officer Randolph Estrellado; and Citibank's Partnerships and Business Development head Ramon del Rosario.