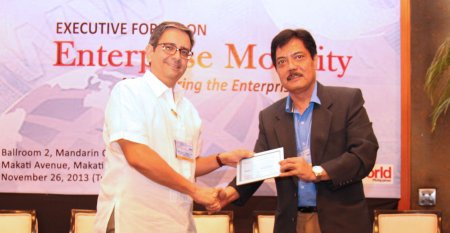 West Zone concessionaire Maynilad Water Services, Inc.'s Senior Vice-President and Chief Information Officer (CIO), Dr. Francisco Castillo, recently participated in Goldcrest Communications Inc.'s Executive Forum on Enterprise Mobility "M-Powering the Enterprise" held in Makati City.
The event was attended by over 50 chief information officers, information technology managers, small and medium enterprise owners, academicians and other executives who were interested to learn more about the opportunities and challenges of the increasing use of mobile devices in today's business transactions.
Earlier this year, Dr. Francisco Castillo attended Computerworld Philippines' Managing Enterprise Mobility Executive Briefing. In that forum, Dr. Castillo discussed Maynilad's use of mobile technology and how implementing broad use of mobile devices and wireless networks has helped to enhance productivity and efficiency among employees.
Dr. Castillo was also named "Outstanding ASEAN CIO" by the International Data Group (IDG), as well as Most Valuable Person by the International Quality and Productivity Center (IQPC) for his contribution in the mobility exchange conference in Singapore. Dr. Castillo has over 20 years of experience in Information Technology, and has undertaken IT and consulting engagements in Spain, Portugal, France, Belgium, India, Thailand, Malaysia, Laos, Vietnam, Philippines, and Indonesia.
IN PHOTO: Dr. Francisco Castillo (left) receives a certificate of appreciation from Goldcrest Communications Inc. CEO Ibarra Gutierrez (right) for speaking at the one-day enterprise mobility forum.