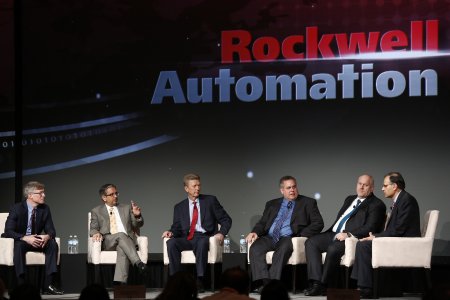 Maynilad Water Services, Inc.'s Chief Information Officer Dr. Francisco "Kiko" Castillo (shown in photo, second from left) was one of a group of panelists who tackled data analytics in the recently held Automation Perspectives at the Automation Fair 2015 in Chicago, Illinois, USA.
The annual global media event, hosted by Rockwell Automation, recently gathered leading global manufacturers and industrial operators to share their thoughts on this year's theme "Creating Transformational Value with The Connected Enterprise," or the convergence of information technology (IT) and operations technology (OT) systems. It also explored whether or not "big data" (term for large volume of data) and analytics are essential for industrial transformation.
Castillo, head of Maynilad's Information Technology Services Division, stressed the importance of having knowledgeable people to fully harness the benefits of data analytics on improving operational efficiencies.
"For us, to do a good analysis of the information, we need someone who is knowledgeable of the process itself. That is more of a challenge," he asserted, adding that a data governance model is currently a work in progress for Maynilad.
Together with Castillo as co-panelists during the "Real-Time Analytic Services Driving Transformational Value" discussion were industry executives Blake Moret (Senior Vice President, Control Products & Solutions, Rockwell Automation), Rick Schneider (President FANUC Americas, FANUC), Wayne Roller (Engineering Director, 3M), and Matthias Altendorf (Chief Executive Officer, Endress + Hauser). Sujeet Chand, Senior Vice President & Chief Technology Officer of Rockwell Automation, served as their moderator.