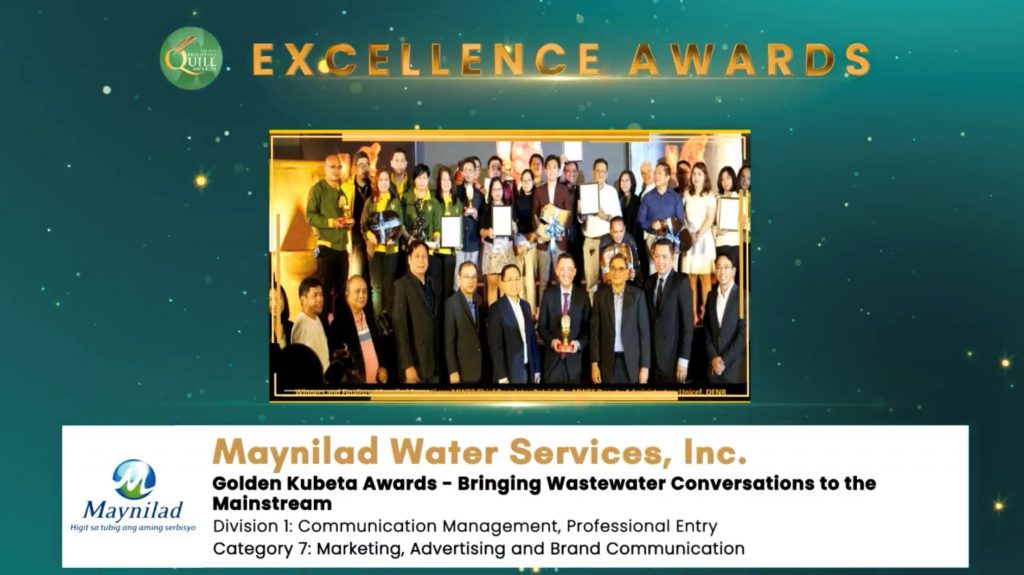 West Zone concessionaire Maynilad Water Services, Inc. (Maynilad) bagged three Excellence and three Merit Awards in the recently concluded virtual ceremony of the 18th Philippine Quill Awards.
Excellence Awards were given to the company's crisis communications program "Explaining the rotational water service interruption in the West Zone", and wastewater programs "Kubeta Talks – Let's Talk Dirty" and "Golden Kubeta Awards – Bringing Wastewater Conversations to the Mainstream".
Meanwhile, Merit Awards were given to Maynilad's social media tool "Maynilad Simpleng Ginhawa Online Videos", and COVID-19 communications programs "Development of the Post-ECQ Plan – Workplace Re-entry Guidelines for Maynilad Employees" and "Maynilad Post-ECQ Sanitation Service Information Campaign".
"This recognition from the IABC is a huge honor for our organization. It will serve as inspiration for us to keep striving for excellence in the development of communications initiatives that serve our customers and other stakeholders," said Maynilad President and CEO Ramoncito S. Fernandez.
Organized by the International Association of Business Communicators (IABC), the Philippine Quill is the foremost mark of excellence in business communication, recognizing the most effective and innovative communication initiatives in the country.