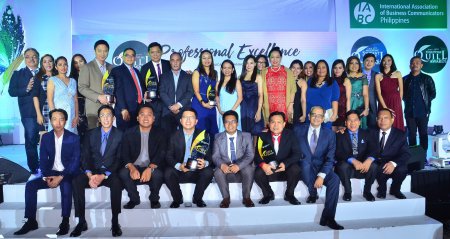 West Zone concessionaire Maynilad Water Services, Inc. (Maynilad) won seven Excellence and three Merit Awards at the 15th Philippine Quill Awards held recently at the Marriott Hotel in Pasay City.
Excellence Awards were given to Maynilad for its communication management programs "Maynilad Next Generation" (Internal Communication category), the company's organizational transformation strategy; "Weathering El Niño Information Campaign" (Media Relations), which sought to prepare Maynilad customers for the effects of El Niño; "Pag-asa sa Patubig Partnership – Water for the Poor of Upper Sucat" (Community Relations), a collaboration project to address the water needs of poor families in Muntinlupa; and "World Water Day Awards" (Government Communication), an annual recognition for individuals and organizations that promote environmental responsibility.
Also given Excellence Awards under the Communication Skills Division were "Ripples, The Official Company Newsletter of Maynilad" (Publications), and audio/visual tools "Maynilad El Niño Videos" and "Maynilad Wastewater Treatment Video".
Meanwhile, the company was also given noteworthy distinction for its communication management program "Sining Ipo: Sungka" (Corporate Social Responsibility), and communication skills programs "My Water Bill: The Maynilad Bills Presentment Project" (Digital Communications) and "Isa-isahin Natin: The Maynilad Bill Explainer Video" (Audio/Visual).
"Developing programs that are relevant to our customers and to society is part of our higit sa tubig na serbisyo brand promise. We thank the IABC for recognizing our advocacy and communication initiatives, which we plan to sustain and challenge for greater positive impact," said Maynilad President and CEO Ramoncito S. Fernandez.
Maynilad was also nominated "Company of the Year Award" alongside Manila Electric Company (Meralco), Smart Communications Inc., ABS-CBN Corporation and Shell companies in the Philippines.
The Philippine Quill is awarded by the International Association of Business Communicators (IABC). It is the foremost mark of excellence and professional acknowledgment within business communication. The Award recognizes the most effective and innovative communication initiatives in the country.
PHOTO CAPTION: The Maynilad team, led by President and CEO Ramoncito S. Fernandez (standing, sixth from left), holding up the trophies given by IABC during the 15th Philippine Quill Awards for its various communications and advocacy initiatives.