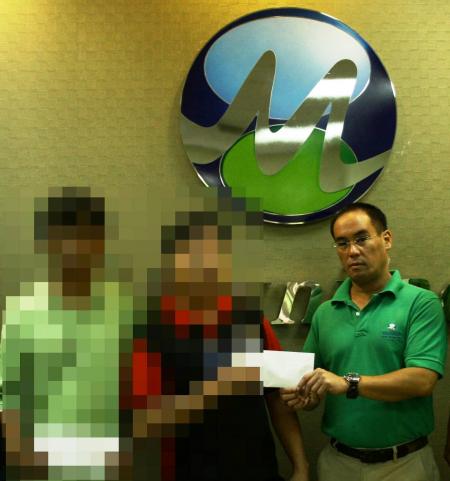 Maynilad Water Services, Inc. (Maynilad) has received 32 reported cases of illegal connections since it launched its Sugpuin ang Ilegal na Koneksyon AgaD (SIKAD) program last month. Based on the water company's initial computations, these illegal connections have consumed nearly 20,000 cu.m. meters of water, which is enough to supply over 660 average households for one month.
Out of the 32 reported cases, 20 have been investigated, of which 17 were confirmed as illegal connections.
The company encourages even more people to support the program.  "We are thankful for those who have joined the program and appreciate their bravery and sense of civic duty.  We encourage more people to join so we can protect the safety of our customers and preserve our water supply," said Ricky Vargas, Maynilad President and CEO.
Andrew (not his real name) shared his reason why he reported an eatery for its illegal connection.  "Nagka-LBM na ako sa lugaw nila.  Kung ako nagkakasakit, paano pa ang mga bata? (I had LBM when I ate their congee.  If I got sick, then what will happen to the children who eat there?)"
Another concerned citizen, Mario (not his real name), had a different motivation when he reported a carwash for its illegal connection.  "Ang lakas-lakas nilang mag-aksaya ng tubig, tapos hindi sila nagbabayad. Patas ba yon?  Nagtitipid ang lahat para sa tag-init, tapos sila nananamantala? (They use so much water and yet they don't pay for their consumption. Is that fair? Everyone else is conserving water for the summer but they're taking advantage)."
Maynilad launched the SIKAD program last April to protect the water supply of its costumers and reduce its water losses. The program enjoins the public to report illegal connections of commercial and industrial establishments by offering cash rewards.  For each confirmed illegal connection, a concerned citizen may be awarded P15,000 to P120,000.  The cash reward is based on the under-collected amount of the reported illegal connection.
SIKAD will run for six months until September 30, 2011.  It will cover commercial and industrial establishments with the following illegal water supply activities: tampered meters, by-pass connections, double tapping and unregistered connections.
For more information about the SIKAD program, the public may call Maynilad at 981-3485 or 0928-5011926.
PHOTO CAPTION: The first batch of concerned citizens receive their cash rewards from Maynilad for reporting illegal connections.  In photo are (L-R) Andrew and Mario (not their real names) and Chris Lichauco (Head, BA Operations).