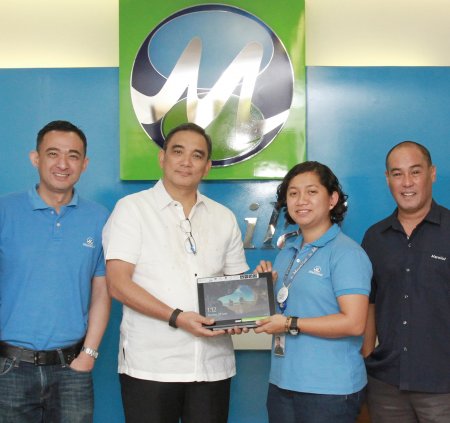 West Zone concessionaire Maynilad Water Services, Inc. (Maynilad) has purchased brand-new computer tablets for the use of its 337 Zone Specialists, in line with its objective of empowering employees and improving service to customers.
The new tablets will improve the response time of Maynilad's field personnel, as it will enable them to have quick access to customer data while going around the communities they serve. It also supports the company's move to make transactions paperless.
"We constantly strive to become more responsive to the needs of our customers. Equipping our zone specialists with the proper tools to do their jobs more effectively is part of our commitment to becoming a truly customer-centric organization," said Maynilad President and CEO Ramoncito S. Fernandez.
In the photo, Fernandez is shown handing over a new computer tablet to Muntinlupa zone specialist, Andrea Angelica A. Gavilan. Also in the photo are (from left) Maynilad COO Randolph T. Estrellado and Business Area Operations head Christopher Lichauco.