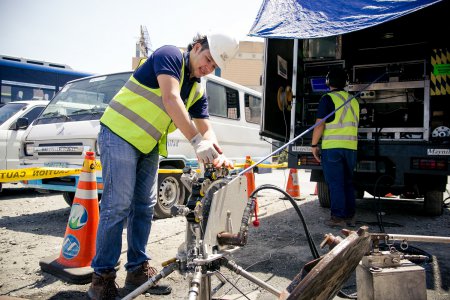 West Zone concessionaire Maynilad Water Services, Inc. (Maynilad) recently acquired its second Sahara® mobile leak detection equipment to strengthen its ongoing leak repair drive. Maynilad is the first water company in Asia to use this state-of-the-art equipment for reducing Non-Revenue Water (NRW).
Maynilad acquired its first Sahara® leak detection equipment in 2010. Since then, it has examined more than 830 kilometers of primary pipelines, enabling the company to resolve more than 1,000 pipe leak incidents and recover about 183 million liters of water per day (MLD).
With this second unit, Maynilad can fast-track the detection and repair of pipe leaks, particularly in areas where there are high concentrations of leaking primary lines.
Sahara® uses an acoustic sensor that is inserted into a pipe while tethered to a monitoring system on the surface. The equipment enables Maynilad engineers to conduct audio and visual inspection inside pipes without shutting down water supply to customers.
"Underground pipe leaks are very difficult to find, so we utilize the latest types of technology to facilitate network rehabilitation and ultimately boost our NRW reduction campaign," said Maynilad President and CEO Ramoncito S. Fernandez.
Plugging leaks in the distribution system is a major component of Maynilad's NRW Management Program, which seeks to bring down physical and commercial water losses. Aside from leak detection and repair, the program also includes network diagnostics, establishment of District Metered Areas, replacement of old water meters, and selective pipe replacement.
Maynilad is the largest private water concessionaire in the Philippines in terms of customer base. It is the agent and contractor of the Metropolitan Waterworks and Sewerage System (MWSS) for the West Zone of the Greater Manila Area, which is composed of the cities of Manila (certain portions), Quezon City (certain portions), Makati (west of South Super Highway), Caloocan, Pasay, Parañaque, Las Piñas, Muntinlupa, Valenzuela, Navotas and, Malabon, all in Metro Manila; the cities of Cavite, Bacoor and Imus, and the towns of Kawit, Noveleta, and Rosario, all in Cavite Province.