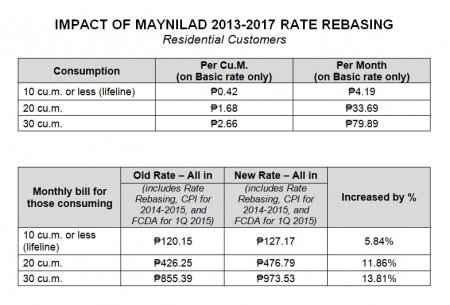 In a decision dated 29th December 2014, the Appeals Panel of the Metropolitan Waterworks and Sewerage System ("MWSS") and Maynilad Water Services, Inc. ("Maynilad") upheld the alternative rebasing adjustment of Maynilad.  This will result in a 9.8% increase in the 2013 average basic water charge of P31.28/cu.m., inclusive of the P1.00 Currency Exchange Rate Adjustment which the MWSS has now incorporated into the basic charge (the "Award").
The Award translates to an average increase of P3.06/cu.m.  For a typical household whose monthly water consumption is 20 cu.m., this would mean an increase in the average water charge of P1.68/cu.m.
Maynilad President, Ricky Vargas, said that "This decision confirms that the Concession Agreement works, and restores investor confidence in the public-private partnership program of the Government.  This also ensures the continued implementation of Maynilad's capital expenditure projects that are intended to benefit further our customers."
While there has been a two (2)-year delay in implementing an adjustment in the average basic water charge—the Concession Agreement between MWSS and Maynilad expressly provides for a one-time implementation of a positive rebasing adjustment—Maynilad is willing to implement the increase on a staggered basis, subject to the approval of the MWSS, in order to mitigate the impact of the Award on its customers in the West Zone of Metro Manila.